Online Video Publishing, Production and Technology Guide - Part 4: Search, Collaboration, Encoding
Sponsored Links
In this fourth part of this Video Publishing, Production and Technology Guide, the spotlight is on video search engines and services, on video collaboration tools allowing teams to work around video design, storyboarding or editing while at different locations, and on the increasingly in-demand video conversion and encoding universe.

Photo credit: Nikolay Okhitin
The goal of this multi-part video guide is to ease and simplify your ability to find and make sense of the best video articles and reports I have published here on Master New Media. Aggregating and bringing together valuable content provides a faster way for you to find what you are looking for while having the opportunity to discover and explore more of the related and interrelated matters around your topic of interest.
Here is one concise and easy to scan video topical digest covering the following:
Video Search
Video Collaboration
Video Encoding and Conversion
Feel free to use the open comments section at the end of this guide to provide your recommended links to other relevant resources and articles.
Video Search
Video search engines and online video directories allow for the indexing, cataloguing and searching of as large a quantity (or as specific a theme - this is yet to come) of video and digital film material as it is possible for them to find on the Internet. This is a mini-guide to the best resources in this area.
January 2007
Finding broadcast-quality news and product-oriented video footage has been until now an asset available only to the major television networks. Major television networks around the world are indeed hooked to major video distribution feeds that provide them with an ongoing stream of video material, clips and news that they can record and re-edit into any number of news or video stories. The quantity of such material is so vast, that only a tiny fraction of it makes it to each television channel daily programming. On the other hand, online video sharing destinations and video blogs are rapidly increasing in number and relevance, and nonetheless the use of straight-to-camera talking heads are not always the most engaging type of content to offer, these video sites are often much more sincere and believable than major TV stations with perfectly rehearsed anchormen reading a teleprompter script and with great quality stock news footage in the back.
February 2007
Would you like to automatically search live television broadcasts based on key words? How about an immediate email notification of relevant news with video and text of anything matching your keywords of interest or the ability to archive any relevant video segment found? Keyword search of online video and audio recordings is emerging as a highly in-demand feature that may boost the potential for making audio and video on-demand a very profitable market.
August 2005
Video Collaboration
Internet video and online collaboration were massive growth sectors in 2006, and as 2007 forges ahead the two are finally coming together. With the emergence of the first real-time video synching and sharing solutions, the Internet video experience is definitely bound to become a critical work platform for video and television production as well as for a thousand more applications from research to collaborative review, where watching video together while being at a distance, provides a truly breakthrough new opportunity. The ability for groups of people to watch the same video in real time - from different locations - has two main applications so far. On the one hand we are seeing communal video watching and commentary emerge as an extension of social software.
January 2007
Online collaboration tools tend to focus on the sharing of presentations and corporate communications, leaving those working in the creative industry settling for second-best. But a new tool targeting designers, photographers, marketing creatives and even film-makers is about to change all of that. Making it easy to meet online and annotate images, 3D panoramas, documents, video, and multimedia files with an intuitive toolset and no need to download a thing, Octopz looks set to make some serious waves. Octopz was made by creative professionals, for creative professionals, and it shows. Using a great-looking, totally browser-based meeting space, users can quickly and easily share, discuss and annotate just about any media file out there.
April 2007
Online collaboration moved from strength to strength in 2006 with a host of free and paid services that allowed for rapid web-based sharing of ideas, documents and even desktops. Until now, though, web-based collaboration has tended towards emulating the function of office applications, at the expense of powerful tools for those more interested in fulfilling visual communication needs. If you want to share and edit your spreadsheets or documents over the web, there are a host of options available. Online presentation applications have grown to the extent that they are challenging their desktop counterparts. Furthermore, it has never been easier to take part in screen-sharing online meetings. But then, it isn't always convenient to convene online at the same time, especially as people increasingly work across timezones on the same project.
January 2007
Video Conversion and Encoding
If you work with video on or offline sooner or later you are going to want to convert it from one format to another, or to make sure that you encode the raw footage from your camera in the best possible way.
Poorly encoded or converted video can end up looking horrible, and a lot of the ugly-looking grainy movies you see online are the victims of bad conversion practices. In this mini-guide to converting and encoding your videos, I take you through some of the options available to you, from free to professional-level solutions.
April 2007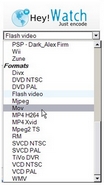 Online video encoding and video formats conversion are some of the most time consuming tasks an online video publisher has to confront himself with. But a new online service from Europe puts an end to this huge time waster once and for all. Small online video publishers can rejoice at one of the most interesting and valuable 2.0 tools to pop-up in recent times and one that I personally believe will find immediate acceptance, success and growth.
January 2007





Want to find out more about online video? Check out the other previous Video Publishing Guide issues: