Visual Search Tools: NewsMap and Grokker Update Their Tools
Sponsored Links
Visual search keeps moving on with the release of two new important upgrades to existing visual search engines.
Dynamic tiles, better known as treemaps and visual clusters are the approaches taken by these two fascinating search solutions, both reviewed here on Master New Media after their initial launch.
Both services are web-based, free and require no extra software or plugin to be installed.
One, Grokker, a notable player in the visual search market of which I have reported about before, has released a Web-based version of its desktop-based software that can now be accessed by anyone without any registration or setup.

Just head to: http://www.grokker.com/ and you can start searching.
Grokker maps can be fascinating and extremely useful when you need to wade through search result topics that may require browsing long lists of results.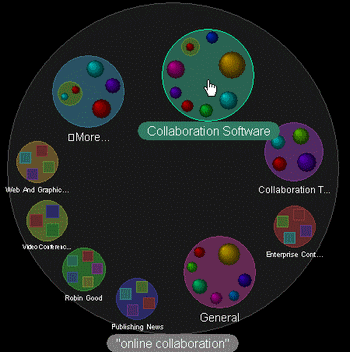 Grokker-on-the-web provides also good personalization features allowing the end user to quickly pinpoint specific information in a Grokker Map. Multiple filters can be used simultaneously and can be easily switched on and off with immediate reflection on the map being viewed. Filters include date and rank controls (site popularity as ranked by Yahoo!) in the form of easy-to-use sliders.
As the user gets to click any individual search result, a handy small preview of the referred web page is displayed on the right side along with excerpted content from it.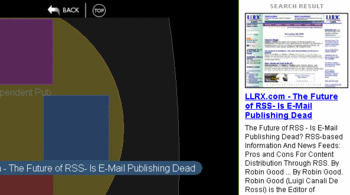 The greatest Grokker feature of all is one that gets easily overlooked: Grokker maps can be completely personalized, in the sense that the categories displayed can be edited, changed or renamed and all search results can be also placed anywhere the user want, therefore providing true and complete ability to create a personal map on any subject.
And maps can be easily emailed from within the main Grokker interface in just one click.

Performance is rather good and navigating through the visually clustered results makes some types of information research activities more effective.
On the other hand the automatic categorization of search results may not be always what you would have done in place of Grokker and in many cases it may not yet be as effective as it could be. On this front Grokker may still have some road to go.
To find out more, take the good online tour available at www.grokker.com.
One particular positive note goes to the terrific integration of AdSense text-based ads into this free web service in a way that truly further enhances the unique value already provided. Thumbs up.
Grooker runs on any Java-enabled browser (related technical info here).


The other new entry is a visual search interface to the large news database of Newsisfree, a major news and RSS aggregator and syndication service, first reviewed here last fall, which is now back with a new upgraded version.
NewsMap, the NewsisFree visual search engine for news, threads on the same groove paved before by other news mapping tools as newsmap.
NewsMap allows some personal customization of the search interface by allowing the end user to set what value visual variables are assigned to.
One can for example decide whether the size of each news item is representative of popularity or of "freshness" (how recent that news item is).
The same can be done with color. The end user can decide whether different shades of color ranging from yellow to red indicate greater popularity or news age.
NewsMap allows also the selection of the news sources utilized among a pre-selected set, and has two control sliders to specify the absolute time range (e.g.: last 24 hrs) to scan and the minimum popularity threshold that any news item would need to reach to appear in the NewsMap.
While the overall concept of NewsMap remains good, the implementation, performance and results obtained by tweaking the different variables leave a lot to be desired.
Happily there are a few pre-configured news maps that can be accessed from this page, as it can get quite frustrating to build your own.
NewsMap offers also a good number of valuable features as you dive into any news item by clicking on it. The options offered include viewing the page, tracking, clipping, emailing and blogging it along with information about the source and its popularity (in terms of clickthroughs via the NewsIsFree content database).
The coolest feature I'd add to NewsMap (outside of improved performance, filtering and usability) is the ability to add your own selected news resources or feeds, with the ability to add some filtering options, and get therefore a completely personalized news map that can be:
a) submitted to a directory of newsmaps that NewsIsFree could create to further promote the intelligent use of its content and tools.
b) could be republished by site owners on their web sites either for free (with a string sponsorship added or highly relevant text ads next to it) or for a monthly-fee without commercials.
Wouldn't that be good?
Of note here that integration of AdSense proves not to be a matter of integrating a script on a page and crossing fingers after that. As good and effective is the Grokker integration, so it is disappointing to see how ineffective is the NewsIsFree solution both in terms of layout and relevance of messages displayed.