Collaborative Document Review Online: PleaseReview
Sponsored Links
If your work consists of collaboratively reviewing and editing documents with a distributed team of colleagues, a new online service may make your life a lot easier and your final work more professional, for a very reasonable cost.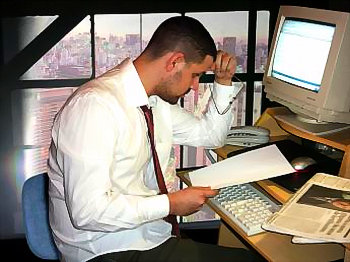 Photo credit: Ivan Soares Ferrer
I myself, have been frequently involved in writing projects or reports in which multiple people were contributing to the development of the final document.
What most people generally do, is to use the "Tracking Changes" and "Comments" functionalities of Microsoft Word to edit and comment on a document in development. The file is then sent via email to the next person, and more edits and comments are added to it. In many cases this is not always very effective, it does not allow Reviewers to see other Reviewers' comments - let alone reply to them and collaboratively agree to a change to wording, and if too many people are involved it gets pretty confusing, hard to read, and very difficult to manage.
Instead of taking this approach, what I have been doing recently is to use a wiki system, in my case this has been SocialText, and to create a private wiki workspace in which at different times, I and my other teammates can post new content, make comments to section contributed by others, and correct and revise easily grammar and spelling mistakes.
A wiki system makes it particularly easy and fast to collaboratively edit any document, especially if the team is made of non-technical people. Cost is low, and the learning curve is a few minutes only.
But the wiki approach is not without problems. Editing the online document accidentally while somebody else has it open may make you loose your work, use of images and other elements requires a bit of technical knowledge, and overall the working environment still feel designed for geeky kind of people and not for the standard person who wants to get her editing done.
So nonetheless I have been using the wiki quite intensely, it has not been all roses.
But it was then with great pleasure that I discovered yesterday this new online service, designed from the ground up to serve the exact need of editors, book writers and report analysts who need to collaboratively work at the editing and review of one document.

While I recently reviewed another live collaborative document editing tool by the name of MoonEdit, PleaseReview is the first online service that I know of that offers a secure, structured, browser-based environment to manage the document review process and enable simultaneous reviews of MS Word documents, Acrobat PDFs and digital images in a professional approach.
PleaseReview goes well beyond being a 'standard' online document collaboration tool and into actually defining what online collaborative document review should look like.
It not only allows a detailed 'paragraph-by-paragraph' review and discussion of the document (and even of "compound" documents), but it also allows reviewers to propose changes and notify typos in a very effective fashion.
You, as the author, remain always in control of the document by accepting or rejecting reviewer's edits, comments and suggestions.
Pretty amazing is the fact if you are long used to work with Word reviewing features, once the online editing and reviewing process with PleaseReview is completed, you can still receive your document back as a Microsoft Word file with all comments, typos and proposed changes integrated as Word 'Track Changes'.


How it works:
Once you have signed and registered for the service, you can invite individuals and/or user groups to review the document you have uploaded. You specify the document(s) to be reviewed, the review deadline and the individuals or groups to undertake the review.
Depending on your subscription you have a limit to the number of documents you can place under review and to number of reviewers you can invite. In the try-out and in the basic account this limit is set to five documents and five reviewers. All reviewers you have selected to participate in the editing process are notified by email.
The invited reviewers follow the link in the invitation email and once logged in to PleaseReview can browse the document via its TOC (table of contents) or via other reviewer's comments. They can then make their own comments, propose changes, mark-up typos and reply to other reviewers' comments.
One unique feature of PleaseReview, is that it allows reviewers to work on documents on a paragraph by paragraph basis while allowing them to:
- Make a comment which can be the start of a discussion thread
- Make a proposed change (redline)
- Notify a typo (redline)
Each one of the additions or suggested changes by reviewers is clearly marked over the main document text, allowing for immediate overview of editing issues to be still resolved.
Within the browser-based interface of PleaseReview, a separate window always shows all comments available (ie actual comment & discussion threads, proposed changes and/or typo corrections) for any selected paragraph. Also the reviewers can see each others comments, can reply to comments or start a discussion thread.
You, as the Author, have full control of discussion threads and can accept comments, accept proposed changes and or reply to comments. The designated Author(s) are always updated via email of new changes added to the review document. Reviewers instead get automatic reminders of any approaching review deadline whenever necessary.
Finally, when the review is over, all comments, revisions and accepted changes are available to either as a full text report or in a Word file as "Comments" and 'Track Changes'.
PleaseReview is completely Web-based, requires no software download or installation, and can be used without problems by any computer connected to the Internet, no matter what operating system it uses.
Subscriptions to PleaseReview include one Author and five Reviewers for the period of a month, quarter or year (subject to bandwidth limits).
One-month subscription cost:
$55 or £35 or €52
Three months:
$110 or £70 or €105
More pricing options and details are available here.
PleaseReview offers a free 30-day try-out.
Watch animated tours of how PleaseReview works.
[ Read more ]