Web-Based Chat And RSS-Enabled Open Discussion Space: Conversate
Sponsored Links
How many times I have wanted to create an open online discussion over a topic, while providing the easy access, notification and posting features needed to make a good conversation thrive?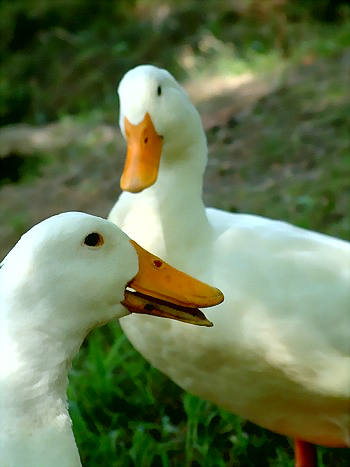 Photo credit: Diane Miller
Not to say that I didn't find solutions for this as QuickTopic does a great job of it, and Movable Type or any standard blogging tool where you have knowledge and control over templates set up can be easily adapted to this task.
But outside of QuickTopic, blogging tools are not really designed to send out invitations nor to provide a comprehensive notification system to discussion participants.
You say I should use a forum?
Yes, I have tried that one too, but generally forum services and software are well geared to support communities where multiple topics are discussed, have little in the way of invitation tools, don't often integrate RSS feeds for distribution, and are most generally not very professional looking (lots of features, icons and grid lines, but that is not what I really need).
What I really want is a tool that allows to start a web-based conversation where:
access and ease of use are given max priority
anyone can participate no matter what computers they have
there is no software to install
the system works across all browsers
I can choose to make my conversation public or private
participants can subscribe via RSS or email
I can watch live the conversation as it unfolds
It's free to use
And I have now found it:
Conversate is a new fully web-based instant discussion space, chat and comment area where ease of use and great accessibility have created a little jewel that, with a few refinements, has great potential in many different applications.
Conversate is the new kid on the web-chat discussion block and it deserves some attention both from potential users as well as from designers of other similar web-based dicussion spaces.
Conversate works on any type of computer as it is completely Web-based.
Each conversation has its own RSS feed, which is directly accessible from the top of any new conversation page.
Conversation participants can also follow an extended conversation via email as each and every message in the conversation will be delivered to their email inbox. Conversation participants can also opt-out of email notifications and subscribe only to the RSS feed for conversation updates.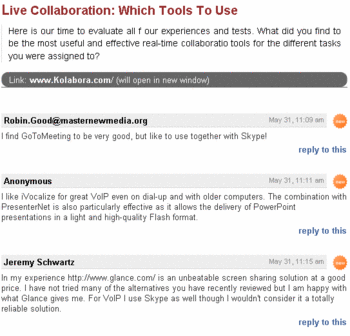 click image above to enlarge it
Both the conversation host and the participants can invite new people to the discussion and a well designed contact list management tool is fully integrated into Conversate.
Multiple lists of people can be easily created, though there is no option to import a standard database or comma delimited file. It is also possible to create a list that will automatically invite a pre-set list of your friends with a single click.
Notification options are good allowing all participants in a conversation to select which content to receive and in what format. I could for example subscribe to RSS feeds notifying me of new replies to my own comments, while decide to receive by email any new post inside the conversation. It is even possible to exclude receiving notifications when specific persons make comments or replies in a conversation.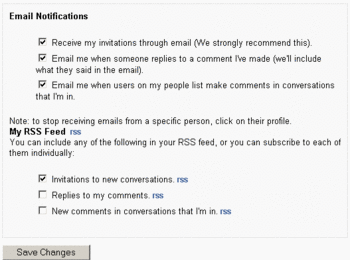 click image above to enlarge it
A nice little feature that I noticed only later in my testing is the ability to add a link to a Web site, article, audio or video clip to any new conversation created. The link to the resources is automatically displayed under the title and when clicked it opens up the designated resource in a separate browser window.
Inside the Conversate chat HTML tags and links can be used to facilitate the creation of links to other outside resources.
The Conversate bookmarks allow you to start a conversation from any Web page you happen to be in. By placing a bookmarklet link in your browser links bar, when you find an interesting website that you want to talk about, simply click the Conversate bookmark that link and summary of the website will open up in a new conversation. It is also possible to set up the Conversate bookmarklet to automatically invite any of your lists whenever you click on it.


How to use it
1) First, create your own account: on the Conversate homepage, fill in your e-mail address. That e-mail address will be your Conversate login. Then choose a password. You can create multiple Conversate accounts for different e-mail addresses (and later on you can choose to combine accounts).
2) After logging in, click on "start a new conversation," and fill in whatever you want to talk about.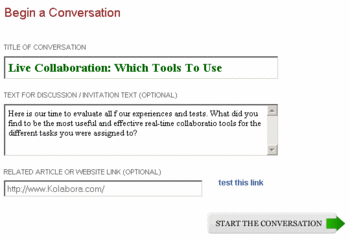 click image above to enlarge it
3) Once you've invited your group and clicked "Start the Conversation," an e-mail will go out to your group inviting them to join the conversation.
4) After they login, your group can post messages to the conversation.
5) At any point in the conversation, you can invite more people to join. Anyone who joins will be able to see the entirety of the conversation up to that point.


Conversate is a simple, yet extremely useful tool for collaborating online in an effective way.
Here is what I would do to make it better:
a) Conversation page should have an option button offering automatic refresh of the page, every x seconds (user-defined) so that new posts made in a real-time event can be read without having to keep pressing the screen refresh command.
b) Conversation host should be able to enable auto-URLing of web addresses and emails placed in messages (when you type normal web addresses or emails inside messages they appear already as clickable links).
c) The RSS subscription link should be made more visible and by also using the increasingly popular orange tag. Top and bottom of screen.
d) Provide option to conversation host not to allow other invitees to further invite other people.
e) According to instructions on the Help page it should be even possible to start a conversation from your email as well as select which contact list to invite to it. I have tested this feature but have not been able to make it work. But indeed, this is something useful I want to learn how to use.


Conversate is a Web-based instant discussion space with lots of potential for many different web applications including online learning, research, virtual teams support, project management and much more.
Conversate is another great project created by the Participatory Culture Foundation. (Stay tuned for what these guys are doing. Lots of great stuff cooking.)
I would personally recommend Conversate as a great, simple-to-use, extremely accessible and user-friendly web-based discussion space.
But what do you think of it?
Hey, is this a Conversate board? You raved about it, so why not use it? I don't get it.
---
I also oneself something would want to find out on this theme. Very attentively I will read every post.
---