RSS, Social Bookmarks And Free Foto Search: The Sunday Sharewood Picnic
Sponsored Links
The sheer number of new, interesting unique tools and services that keep popping up is increasing at an ever increasing rate. Each day I have many more items that I'd like to cover but only enough time to provide good insight and information on a few only.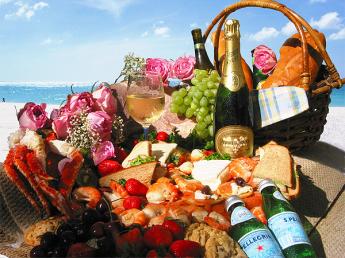 Photo credit: Roger Kirby
As I keep searching for talented young would-be online writers and news editors who could greatly help me grow out of this frustrating empasse, I have decided to reserve Sundays for releasing in block all of my great weekly discoveries that haven't had opportunity and luck to make it to my published weekly articles.
Here is my first Sunday Sharewood Picnic, covering great tools, resources and ideas related to RSS, social bookmarking and the finding of great, free images.
Enjoy!

RSS
RSS Mix
http://www.rssmix.com/
RSS Mix is a new free service which allows you to input multiple RSS feeds and to obtain in return a master mix feed which brings together all the individual feeds into one. RSS Mix throws in also a handy facility to customize the look and feel of the newly created mix.


Pop2RSS
http://ejohn.org/projects/pop2rss/
John Resig's Pop2RSS is a software that automatically converts incoming POP email messages into an RSS feed.
See also: Mailbucket.


RSS to SMS
Freenews
FreeRange Communications has just announced the availability of FreeNews, a new RSS news reader for mobile devices, phones and PDAs. A FreeNews server guides users through the set-up process, offering suggestions for newsfeeds, and allowing a search for all available news sources. FreeNews is a Java application and runs on most cell phones. FreeNews supports also Blackberry devices, as well as Palm OS devices with Java installed. FreeNews supports both Atom and RSS feed formats, and is available for $19.95 as an annual subscription. A trial version is available for download.
See also: RSS to SMS: Feedbeep does it.



Social Bookmarks Managers
7 Things you should know about Social Bookmarking
Want to learn and understand better what social bookmarking, tagging, and folksonomies are? This two page PDF does it in just two pages of clear and concise information. Recommended.
What is a social bookmark manager?
"A social bookmarks manager allows you to easily add sites you like to your personal collection of links, to categorize those sites with keywords, and to share your collection not only between your own browsers and machines, but also with others.

Once you are registered/logged in into your selected bookmarks manager service, you add a simple bookmarklet to your browser. When you find a web page you'd like to add to your list, you simply select the bookmarklet, and you'll be prompted for inputing any tag or description to the web page resource you have found. You can add descriptive terms to group similar links together, modify the title of the page, and add extended notes for yourself or for others.

You can access your list of links from any web browser.

By default, your links are shown to you in reverse chronological order, with those you've added most recently at the top. In addition to viewing by date, you can also view all links in a specific category (you define your own categories as you add the links), or search your links for keywords.

What makes these social bookmarks managers social systems is their ability to let you see the links that others have collected, as well as showing you who else has bookmarked a specific site. You can also view the links collected by others, and subscribe to the links of people whose lists you find interesting.

(adapted from del.icio.us own About page)
And here three new social bookmark managers:


Delirious
http://de.lirio.us/


Simpy
http://www.simpy.com/


Linkroll
http://www.linkroll.com


Multipost Bookmarklet Tool
Want to bookmark out one great resource to multiple social bookmarking directories at once? The Multipost Bookmarklet is the tool to use. In one simple interface you can actually "create" your own customized submission tool by selecting the bookmarking directories you want to post to among Furl, del.icio.us, Frassle, Connotea, Bag of URLs, CiteULike, Simpy, Linkroll, Blogmarks, Spurl, de.lirio.us, feedmarker. Not only, you can customize the Multipost Bookmarklet to work with IE, Firefox, Netscape or Safari. Free.


Descriptious
Populicious, Trendalicious and del.icio.us/popular are three wonderful RSS feeds that show little known articles and resources as they are discovered and pointed to by web users. These resources focus on spotting those among the thousands pointed to each day, that show to have a "following", that is a sudden interest by a group. But the problem with these feeds of selected, trendy sites and resources that are being spotted on the Web is that they only give a title for each link -- there are no descriptions. To find out what each link is about, you have to guess from the title, and failing that, actually visit each link. This is time consuming -- and totally unnecessary because many del.icio.us users have already entered descriptions for their links. Jonathan Aquino's Descriptious comes to the rescue. Descriptious augments each of these wonderful feeds with descriptions entered by del.icio.us users. So now when you're checking out those new links, you get descriptions for each of them. The Descriptious feeds are updated hourly.
Get the Descriptious version of Populicious RSS, HTML
Get the Descriptious version of del.icio.us/popular: RSS, HTML
Get the Descriptious version of Trendalicious: RSS
http://www.rsstoolchest.com/
Newsmaster Toolkit Wiki


New Search Engine Finds Free, Reusable Images Only
Yotophoto
http://yotophoto.com/
Yotophoto allows you to search sxc.hu, wikipedia, imageafter and many other free image sites from one place. A very useful feature is that the results will only show images that are available for commercial use. As you probably know, searching the images at Stock Exchange or Wikimedia will turn up tons of images that are available for non-commercial use only; which is pretty useless for most bloggers/webmasters since nearly every blog or site these days runs Adsense. Yotophoto is a search engine for free-use stock photographs. Some of the images are public domain and others have generous Creative Commons (or similar) licensing. Nearly all the photographs are free for personal and commercial use with minimal restrictions, however if you use any of these photos, it is your responsibility to comply with any restrictions or conditions the copyright holder has placed on their usage. Yotophoto is now indexing over 70,000 free images. The newest feature added to Yotophoto is support for negative keywords inside search queries. For example searching for "tree -palm" (without quotes) will return images that have the word tree but not the word palm.
You can try this new social bookmarks site tungaw.com
---
You can now also search through social bookmarks with Gataga. We hope you find it fun to use for web exploration and research purposes.
---
Very nice article ! I particulary like the RSS Mix features.
Here's another site providing custom RSS feeds : www.newsfarm.net.

---