The Open RSS Feed Reader On The Web: Microsoft Start
Sponsored Links
Start is a new, still undefined, unpromoted and unhyped technology service from Microsoft, which has lots of good things going for it.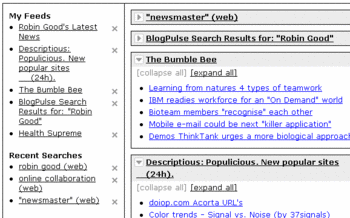 click thee above image to enlarge it
I first saw the Microsoft Start technology during the recent Microsoft Search Champs 2 meeting in Redmond, and as I openly expressed that day, I found the initiative not only nice, but innovative (unlike many other copycat projects carried out by Microsoft), and quite different from what I would normally expect from the software giant.
Start, as its name clearly implies, is a starting point on the Web. In practice it is a personally customizable RSS aggregator, bookmark manager, and more under the guide of a simple and fast web page.
Microsoft Start is a great RSS news aggregator. It offers by default a tabbed news section which covers Business, Health, Entertainment, News and Science &ports Tech, and Sports.
While Microsoft adds by default a limited number of sources under each of those news categories the content inside each can be customized by adding individual RSS feeds and OPML files (list of RSS feeds).

click thee above image to enlarge it
There is no sign-up, registration or login required to use the service. That is quite something new from Microsoft.
The page can be accessed again automatically thanks to the cookies utilized. If you move to a different computer you need to have the unique URL of your Start page stored online somewhere.
The integrated RSS reader is among the best I have seen in terms of ease-of-use, speed and accessibility. Each feed can be easily opened or collapsed at two different levels, allowing you to see either just the titles of the posts inside the feed, or the full content within each one. Start is completely web-based and very, very fast.
News tabs can be easily hidden from view while giving relevance to your personal universe of RSS-based news sources which you can add on the Start page without limits. Once hidden News tabs are displayed on the left vertical column, which is used to access all of the different categories of content offered on the Start page. The Start RSS aggregator adds to the above a little feature allowing you to dose the number of posts displayed in each one of the subscribed feeds.
You can create as many Start pages as you wish, and "cut" each one to cover a specified set of topics and sources.
The overall layout is very clean and sober, and in my humble view, effective.
Finding what I need takes always a second or less.
Blistering speed and perfect integration inside both my FireFox and IE clones (I like AvantBrowser) make it Start a little jewel I like to credit Microsoft with.
One thing I don't like is that there is little or no integration with the MSN search facility integrated at top of the Start page. The moment that I do a search I am taken away from the Start Page (without a new browser window being opened).
And if I want to go back to it I need to use the browser "back" button. On the other hand the Start can remember all of my recent searches and list them for me as direct links on the left navigation side.
It would be nice to see better integration with more of the search functionalities as having for example the ability to easily subscribe to the RSS feed of selected searches (without having to do manual copy and paste of URLs from one page to the other).
For more thrill you can also check out the other prototype (Start/2), which adds two key interesting features:
a) the ability to automatically import all of your bookmarks into the Start page in an organized and easily accessible fashion.
b) a bookmarklet which allows you to add any web page to your start page while you are surfing other web pages. The bookmarklet is can be added as a favourite bookmark to the Links toolbar and made visible on your browser at all times. When you are on an interesting Web page you can simply click on the "Add to Start" bookmarklet and the web page you are on is automatically listed and linked on your Start page.


Suggestions and areas for improvement.

If somebody accesses your Start page, she can change it and modify it as easily as you do. Unless this becomes an option I feel it to be more of a bug than a feature.
Having a long awkward URL like that as the unique gateway access-point is not very user-friendly. Why can't Microsoft rewrite that URL down to a few characters at minimum, if not offer the user to map a unique start.com sub-domain to anyone? (I can map my unique URL to http://robingod.msn.start.com or something similar).
The ability to create an RSS news feed/Custom web page that combines some of the aggregated Start content into a new view is the next significant step to be made.
Integrating in a much deeper way the integrated Search facility and the results obtained with it.
Avoiding to have to rebuild the whole of the Start page each time that you follow a search result page and want to later come back.
Promising.

[ Read more ]