Usability Testing Lab-In-A-Box: View Remotely, Record And Analyse Clickstreams And User Events Visually With Morae From TechSmith
Sponsored Links
Usability testing is that field of activity that puts a specific information system, tool or product under the scrutiny of a precise methodology geared at identifying the specific bugs, idiosyncrasies and ambiguities inherent in the design and interface of the product at hand.
As such, usability testing has been a critical component of effective online publishing, information architecture, UI (user interface) design, by providing a review of the critical issues to be addressed for improvement from a totally user-centered point of view.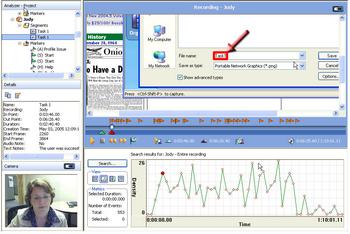 click the above mage to enlarge it
By remotely monitoring, recording and analyzing the data produced by actual users in front of a monitor, when assigned specific pre-determined tasks on a new web site or database information system, information designers and architects can glean extremely valuable tips as to where and how improve and facilitate user-experience, navigation, information finding, and a lot more.
One company that has leveraged the great ideas and feedback received from its own customers along with its unique technology skills to develop the first remote viewing, recording and data analysis software for usability testing is TechSmith, the maker of highly effective and unmatched quality software solutions like Camtasia Studio (screen action recorder) and SnagIt (screen capture).
With Morae, TechSmith brings the lessons learned by usability testers and the power of the latest screen/data recording software to enable usability testing where it was previously unaccessible due to infrastructure and expertise costs.
Morae is the first full-featured usability testing lab in-a-box, one that any small company or non-profit organization can adopt to scientifically improve the ease of use, accesibility and effectiveness of any web site, software or information system.
Jared M. Spool, one of the most respected usability experts around wrote recently:
"As most usability professionals know, testing comes down to being able to collect, organize, and reduce the enormous amount of data gathered into manageable repositories that can be reviewed, referenced, and analyzed.

Until recently, usability professionals were forced to rely on a hodgepodge of hardware equipment sewn together to record how users interacted with Web sites while performing simple tasks, such as shopping.

Most of these testing systems resembled large post-production video labs. They often had the intimidating feel of interrogation rooms with one-way mirrors and a maze of equipment, including scan converters, audio mixers, boom microphones, video cameras, speakers, and miles of cable."

Source: Jared Spool

Morae is a simple, cost-effective alternative to traditional usability testing approaches and hardware that can be installed and used even from a laptop, while guaranteeing effective analysis of user behaviour and choices when using selected software, Web sites and computer-based applications.
By integrating the functionality of a traditional lab with exclusive, Rich Recording Technology, Morae provides a single collaborative solution that modernizes the usability testing process.
One often little considered aspect at software houses and within web design agencies is the importance of enabling the product team to see first-hand how real users interact with their software, Web site, intranet or e-Commerce application, giving them real ground and data from which to enable better solutions.
Morae is made up of multiple components.
1) A recording software component that needs to be installed on the computer station that will be used for testing. This recording software component can be configured to automatically start as soon as the user initiate specific actions or it can be start and stopped remotely by the viewing station. The recording software performs the following functions:
a) it records all screen actions taken by the tester as a movie.
b) it records the tester face and audio via a connected webcam.
c) it records all of the user actions as data including each and every web page change, text input, clicks and more.

2) A viewing component which can be installed on multiple computers, either on the same LAN or via the Internet at distant locations, which allows the testing team to view in real-time testers moving through their assigned application path, while being able to see both all of their screen actions (cursor moves, clicks, text input, etc.) as well as their faces and audio.
Each Remote Viewer observer can set markers and add text notes which are communicated back to the Recorder and automatically saved with the recording file. This allows multiple valuable uses such as:
a) Allowing each observer to focus on one specific monitoring and tracking activity to log.
b) Facilitating developers to direct their attention to individual features they have developed.
c) Making it easy for consulting companies to have clients that can observe real-world testing directly from their offices.
3) An analysis component. This software tool called the Morae Manager allows in/depth analysis of all the event and audio/video data that has been recorded, facilitating the identification of specific issues, duration of specific tasks, number of steps involved to perform certain operations and much of the soft-data component too, meaning all of the facial nuances, complaints and vocal comments made by the testers during recording.
Within this module Morae synchronizes, organizes, indexes, and makes searchable all the video and data collected during a test.
Morae automatically arranges all data from a test session chronologically, allowing for full search bof any mouse click, Web page change, keyboard activity, text entry, Windows event or combination of these, that may have happened during a session.
Using Morae's powerful search editor, it is easy to quickly find times in the test sessions when the user clicked a button, typed on the keyboard, navigated to a particular Web page, interacted with a specific dialog box, or viewed certain text on the screen. The search editor makes it easy to find:
The start and end of tasks


Navigational paths through software and Web sites


Number of times the user accessed help


What dialogs the user accessed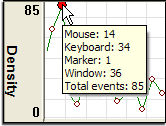 Once a search, sometimes involving multiple variables is performed, Morae brings back a timeline filled with markers pinpointing the places during the tester recording, where those event took place. Not only. Morae allows immediate and direct access to any of those instances via the screen and video recording streams that are now deeply interconnected with the data collected during testing.
4) A presentation and packaging tool. The presentation module facilitates the assembly of recorded clips with maximum flexibility and great ease of use. Titles can be added and Morae's flexibility gives you two options for the final video - Windows Media (WMV) format or standard AVI format.
Morae throws in also an extremely handy utility that produces an executable file that includes your highlight video, codec and media player in one single file. Your audience can simply double-click on the file to open the player and your highlight video will automatically play in perfect quality.


One of the greatest advantages of having such a small footprint, portable usability testing solution, which requires no hardware outside of the tester computer, is that in many cases there is no need to call for an official usability test session, as the test can be run by real users while performing their daily tasks. Exactly.
As the Morae recorder can be installed (with the due licenses) on as many PCs as desired, a selected group of users within an organization or even at different geographical locations can be setup with recorder software set to start automatic recording each time a certain tool, software or website is accessed. This enables to have a much more realistic capture of data from real users and while they are actually challenged by real world situations: no data could be better than this for a usability specialist.


Features Overview: http://www.techsmith.com/products/morae/tour/overview.asp


System requirements:
Morae Manager
Microsoft Windows 2000, XP or later version of Windows
Microsoft DirectX 8.1 or later
Recommended: DirectX 9.0 or later
1.5 GHz processor or higher
Recommended: 1.7 GHz Pentium M or 2.8 GHz Pentium 4 processor or higher
256 MB RAM
Recommended: 1 GB RAM or more
64 MB dedicated video card
Recommended:128 MB dedicated video card
Note: Shared video memory graphics cards are not supported
Windows-compatible sound card, microphone and speakers
20 MB of hard drive space for program installation
Approximately 10-12 MB disk space per minute for highlight video creation
Morae Recorder
Microsoft Windows 2000, XP or later version of Windows
Microsoft DirectX 8.1 or later
Recommended: DirectX 9.0 or later
1.5 GHz processor
Recommended: 1.7 GHz Pentium M or 2.8 GHz Pentium 4 processor or higher
512 MB RAM or more
Recommended: 1 GB RAM or more
64 MB dedicated video card
Recommended: 128 MB dedicated video card
Note: Shared video memory graphics cards are not supported
Windows-compatible sound card, microphone and speakers
20 MB of hard drive space for program installation
Approximately 20-40 MB disk space per minute of recording
Morae Remote Viewer
Microsoft Windows 2000, XP or later version of Windows
1.5 GHz processor
Recommended: 1.7 GHz Pentium M or 2.8 GHz Pentium 4 processor or higher
512 MB RAM or more
Recommended: 1 GB RAM or more
32 MB dedicated memory video card
Recommended: 128 MB dedicated memory video card recommended)
Note: Shared video memory graphics cards are not supported
Networked computer with 10 Mbps
Recommended: Networked computer with 100 Mbps
5 MB of hard drive space for program installation
10-12 MB disk space per minute for WMV recording (WMV recording in Remote Viewer is optional)


Price: $ 1298 for one Morae License
(includes Manager, 1 Recorder, 1 Viewer, 1 year assistance.)
Additional Recorder $129
Additional Viewer $129
Additional Recorder/Viewer Bundle $199
Usability Methodology Guide $99
More pricing info: http://www.techsmith.com/products/morae/howtobuy.asp
Find out more information about Morae:
http://www.techsmith.com/products/morae/