Breeze Is The Conferencing Tool To Beat
Macromedia announced this past Monday, May 2nd, the availability of a new version of their flagship web conferencing product: Breeze 5.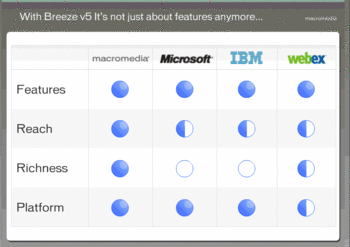 Breeze 5 is from my point of view a wonderfully designed masterpiece of interface design, usability and features.
While Paul Ritter, research director, at Wainhouse Research told Macromedia that "the release of Macromedia Breeze 5 moves Macromedia into a horse race with Microsoft, WebEx, and IBM," I only see Microsoft, Webex and an increasing large bunch of "others" (Genesys, Interwise, Oracle, etc.) having to do a lot of catch-up to provide as competitive and usable a product to the market as Breeze has done.

Like no-one Breeze leverages the ubiquitous presence of Flash inside all major browsers and operating systems to guarantee seamless cross-platform compatibility, something only a handful of its competitors have been able to provide, and often with some compromises.
The new release of Breeze refines on the already outstanding feature set and adds a few "nice-to-have" extras including multi-course curriculum management, multi-point video conferencing, full-screen video, enhanced tracking and reporting, and expanded question and quiz types.
For those of you who haven't used Breeze before, the core list of facilities of this tool is quite impressive as it includes everything from text chat, polling, whiteboard and file sharing to automatic conversion of PowerPoint presentations into Flash and online delivery, co-browsing, application sharing, voice over IP, multi-point video, integrated recording, event and user tracking/reporting.
But what is rather more impressive as soon as you start using Breeze is the flexibility and ease with which one can manage, tailor and personalize the interface and the collaboration components utilized in multitude of ways.
I don't see any of the other key enterprise conferencing systems coming close to what Breeze is now able to offer. Though competing products may have key strengths in specific areas, in an overall roundup of what I personally like and value as being representative of future directions, Breeze stands out as a pretty unbeatable winner.
Here is why:
posted by Robin Good on Tuesday, May 3 2005, updated on Tuesday, May 5 2015