Real-Time Sharing Of Microsoft Office Documents And Applications: Instacoll vs. Conferral
Sponsored Links
Two new, very cost-effective, real-time collaboration tools open up new ways to share and present Microsoft Office documents on the Web.
The first, Instacoll, fully integrates with your Office tools and provides an easy and immediate approach to PowerPoint share presentations, Excel spreadsheets, Word documents, without needing to leave those applications to launch a separate tool.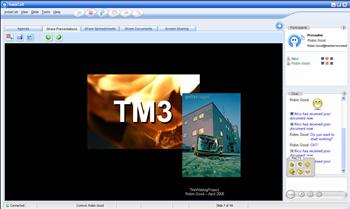 Instacoll full interface
Conferral adds to the same approach the ability to send files of any size to connected participants as well as the opportunity to upload Presentations to be viewed on-demand by your invitees (anyone can login at his own time and watch the presentation online).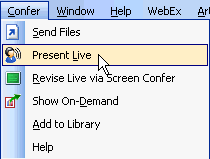 Conferrall contextual presentation controls

Both solutions require a software installation for the presenter and both work only with Microsoft Windows PCs, better yet if equipped with Microsoft Office.
The interface of the two tools is rather different with Conferral having a truly minimalist and easy-to-use approach that leaves a little floating control panel on the top right of the screen as the only key interface to Conferral abilities.
Conferral embeds a mini-toolbar in PowerPoint, Word and Excel allowing one-click instant sharing or co-editing of the content being worked on.
Instacoll employs a full web-based interface that allows the access of its multiple functionalities via an easy-to-use tabbed interface. The presenter can easily switch for sharing a PowerPoint presentation to the co-editing of a Word document, while text chatting with the other meeting participant.
It is also true that Instacoll sessions can be fully started from within any Microsoft Office application via a simple Instacoll button that gets automatically integrated into those apps at installation time.
In short, both tools try to enable to the best of their abilities a seamless contextual collaboration facility that facilitates initiating a screen or collaborative document editing sesion from within any of the major Microsoft Office apps.
Text, Word and RTF documents can also be edited collaboratively and in real-time both via Conferral as well as with Instacoll. In Instacoll color coded tracks let everyone who has made changes and where. The moderator can also decide whether to accept or reject the changes made and if to allow participants to save a copy of the edited document locally to their PCs.
Instacoll adds into the mix the powerful ability to record screen-sharing sessions and to play them back for review or training purposes at any time.
Conferall provides the ability to upload any number of files and folders as to make them accessible from any other computer or location (under password protected access). Conferral also adds a unique feature allowing participants in a real-time colaboration session to send files of any size.
In Instacoll control of a document to be co-edited can be passed on to any other attendee with just a simple click, and the moderator/presenter can easily see when a document opened on his side has also fully reached the other participants.


Invitation management
Both solutions create unique URL where you send your meeting invitee(s). The URL must be sent via email or via an instant message.
Conferall integrates a scheduling tool too, which facilitates the task of planning upcoming meetings within Outlook.


Presentation facilities
The presentation facility of Instacoll leverages the installed copy of Microsoft Powerpoint (or of the Powerpoint viewer) on each participant computer keeping quality of display at the best possible level. Conferral converts instead Powerpoint presentations into JPG images which then it screen-shares to all participants. Conferall advantage is compatibility and accessibility where Powerpoint is not installed (still PC Windows only) though the quality of display is not nearly comparable to that of Instacoll presentation sessions.
With Instacoll, presentations can be delivered in full screen while a handy set of floating controls allows easy moving from slide to slide.
The presenter can also control the quality of the display by selecting between 8, 16 or 24-bit color depth. This allows to blance out the quality of the screens being shared for the speed at which they will be received by other attendees. By default the Instacoll setting is configured at 16-bit color equivalent to 65,000 colors. Obviously the more the colors the better the quality as well as larger the amount of data to be sent through.
As the screen is being shared the Instacoll presenter can also annotate any part of the screen in real-time with a simple-to-use contextual mark-up toolset.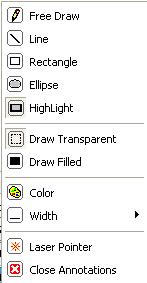 With Conferral, PowerPoint presentations are converted into JPG image files perfectly embedded in a set of web pages. An integrated thumbnail navigation view is available making it quite easy for the presenter to manage and control the online presentation delivery. As said, though the quality of the slides is not nearly as good to the one of accessible to Instacoll viewers (who actually watch the original PPT file unconverted), Conferall allows anyone with a simple web browser to come and see the show.
Unique to Conferall set of facilities is the ability to pre-upload multiple presentations and to call them up for delivery as needed. This makes it easier to manage presentations with multiple presenters as well as opening the opportuning to allow for the asynchronous, on-demand delivery of presentations which is another unique point of strength for Conferral.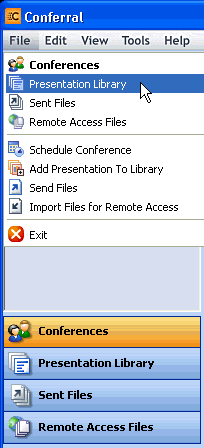 Conferall users can also view the presentation in full screen mode.


Costs
Instacoll is completely free for one-to-one collaboration sessions. A paid version supporting multiple users as well as one for internal deployment within any organization are available through Instacoll sales department.
More information about Instacoll.
Conferral offers a full try-out lasting 15-days and then it charges $199 (until May 31st 2005) or $299 for a perpetual license.
As far as capacity is concerned, Gabe D'Annunzio reported to me on behalf of Conferral that when running this system on a home computer with a broadband internect connection, 10 viewers can simultaneously watch your presentation with a tolerable refresh delay of about 3-4 seconds between slides. Adding more users really slows things down to where it is not really fun to watch.
More information about Conferral.
System requirements
PC, Windows. Both tools adopt a data-centric approach and allow individual users to communicate data in a peer-to-peer fashion, directly between themselves. Both require a good Internet connection (ADSL or better).
One key difference between Conferral and Instacoll is that participants in a Conferral collaborative session require only a browser to participate. They don't need a copy of Conferral, in fact they don't even need Microsoft Office. With Instacoll, a copy of the application must be always downloaded to their computers before they can participate.