Wednesday, April 27, 2005
Wireless Broadband Networks Are Coming: WiMAX Is Next
The announcement last week by Intel that it is making available its first WiMAX product will provide equipment manufacturers and carriers with the ability to deliver next-generation wireless broadband networks around the world.

Photo credit: Adam Ciesielski
WiMAX, which is short for Worldwide Interoperability for Microwave Access, is a standards-based wireless technology for providing high-speed, last-mile broadband connectivity to homes and businesses and for mobile wireless networks.
Previously codenamed "Rosedale", the Intel PRO/Wireless 5116 broadband interface device is based on the IEEE 802.16-2004 standard, giving carriers and end-users the confidence that equipment from different vendors will work together. WiMAX solutions based on 802.16-2004 enable the creation of high-speed, fixed wireless broadband networks, providing Internet connectivity, Internet Protocol (IP) and TDM Voice capabilities and IP-based real-time video at high speeds.
Intel claims that its WiMAX chip delivers the features needed to provide cost-effective, high-speed wireless modems for homes and businesses. Initial deployments will enable delivery of broadband Internet access to remote areas not currently served by DSL or cable, and will make it possible to wirelessly connect buildings up to several miles apart. Because it is standards-based, WiMAX technology is expected to make it easier and more cost-effective for new and existing broadband users to enjoy wireless Internet access.

"As a standards-based, high-speed Internet access solution, WiMAX can provide the platform for the next generation of Internet expansion, connecting the next billion Internet users," said Scott Richardson, general manager of Intel's Broadband Wireless Division. "In addition to delivering the first flexible, highly integrated WiMAX system-on-chip, Intel has worked with a number of parties, including carriers and equipment manufacturers, to prepare the industry for the next wave of wireless technology."

The Intel PRO/Wireless 5116 broadband interface is the first 802.16-2004 system-on-chip optimized for cost-effective WiMAX modems and residential gateways. These units may be placed in either homes or businesses to receive and transmit a wireless broadband signal.
According to Intel, the product is designed with a high level of integration to streamline the development process and reduce costs for equipment manufacturers. It also offers a programmable architecture that makes it easier for equipment manufacturers to add innovative, unique applications on top of the standards-based Intel solution.
To bring WiMAX connectivity to a broader audience, the Intel PRO/Wireless 5116 broadband interface enables both outdoor WiMAX products as well as new indoor solutions, such as self-installable WiMAX modems and residential gateways.
Vendors and others backing WiMax are counting on the standard, approved last year, to allow for interoperability and the high volumes of manufacturing that typically drive electronics prices down.
The WiMax Forum recently announced that it launched a certification program and expects approved products to hit the market by year's end. The Cetecom test lab in Malaga, Spain, will start accepting products in July to test for interoperability and conformance to the standard, the group said in a statement. Products should ship in November or December, it said.
In an interesting short analysis of these developments, an article in Technology Review, entitled "The WiMAX Difference", wonders what the early implications will be of WiMAX deployment.
In large cities, where it's easy enough to prop a tower on a building, WiMAX will sometimes be in direct competition with city-run, distributed WiFi systems. Although, as Intel points out, WiMAX signals are likely to fade out like a cellular service inside of buildings, so the technology is actually best when paired with interior WiFi hot spots.
And many smaller communities, especially in the US's Northeast, are already peeved at the number of ugly cell phone towers. Although there are rumors that some companies are pushing to revamp some cell towers into WiMAX, since they can also carry cellular signals.
As a side note, look for a big portion of WiMAX's early income to come from carrying cellular backhaul -- at least until enough people pick up their own personal WiMAX cards to make the venture profitable for broadband Internet service providers."
Along the same lines, WiMAX may actually begin to replace cell phone service. Or at least that's what NextWeb has in mind. They announced last week that they're going to start a WiMAX phone service in a couple of months.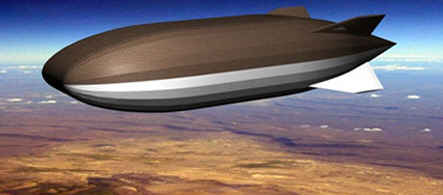 Further down the line, Sanswire may have the winning idea. Last week, they unveiled the first stratellite, a blimpish looking craft that positions itself at a fixed location in the stratosphere to provide wireless service to an area the size of Texas.
WiMAX has the potential to be a hugely disruptive technology. This is how the Internet should be experienced.
posted by

on Wednesday, April 27 2005, updated on Tuesday, May 5 2015