Google's Bird's-Eye View: See Before You Go
Have you ever wanted to see a place before you actually went there?
A far-away house?
A shopping-mall?
A stadium?
If you live in the US, now you can.
Google has just incorporated the amazing Keyhole satellite visualization technology into Google Maps and Google Local.
Now, when you type an address into Google Maps, you can click the 'Satellite' link and see a direct view of the area.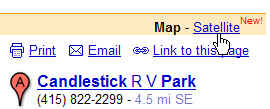 You can zoom, move the view by dragging, and even resize the window just like you can do in the normal 'Maps' view.
If you are in the US you can type in an address for an area where you have fund an ad in the paper and look at what kind of buildings are there. Where is the closest park? Is there a parking lot nearby?
If you are planning your journey down along the coast on route 1, you can now check motels and off-road sight-seeing spots with the clarity of an eagle.
You can even see driving directions superimposed on the real satellite imagery.
Google says on its announcement page:
"We can't promise you'll never miss another freeway exit, but we do think that Google Maps + Keyhole gives you a great way to see and explore your world."
Take a look and let me know what you think.
posted by Robin Good on Tuesday, April 5 2005, updated on Tuesday, May 5 2015