Cross-Platform, Videoconferencing-Enabled, Standards-Compliant: The New Skype Is Called Ineen
With Ineen, the first fully-featured open-standards compliant audio and videoconferencing desktop tool is here.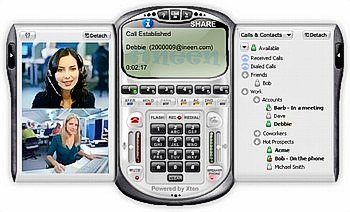 Available for both Mac and PC users, Ineen allows nested conferences allowing unlimited number of people to join in real-time and talk.
Ineen is another P2P real-time communication jewel integrating all of the most relevant buzzwords a tool could crown itself with: small-footprint, P2P, SIP-complaint, video-enabled, VoIP-enabled, open-source, cross-platform.
Each Ineen user can connect to up to 10 other people concurrently (audio, and max to four when doing live concurrent video).


Instant Messenger and Buddy List
Full buddy list control with grouping feature (not yet available in Skype) and integrated presence awareness indicators.




Audio Conferencing [10 People]
By simultaneously enabling AA (auto-answer) and AC (auto-conference) features, Ineen allows you to receive calls from multiple people at your number while they al automatically join the same voice conference room.

Distributed Conferencing [Infinite]
Since every Ineen user can conference up to 10 other people, larger conferences can be achieved by simply interconnecting individual groups into larger ones. So, once you are connected to your peer group of max 10 people you can connect up to someone else in the conference that has other 10 people, and so on.
Video Conferencing [4 People]
Sending video is as easy as clicking the Start button at the bottom of the left retractable panel integrating the video functionalities.
Call Recording [Audio and Video]
Also cal recording, which integrates both audio and video recording in .avi format, ca be performed by simply clicking on the record button on the main Ineen control interface.
Speakerphone Mode
If your computer integrates a built-in mike and its own speakers you can enable this functionality which allows to talk freely while hearing through your computer speakers and without creating any echo effect for the other participants.


Ineen uses SIP [
Session Initiation Protocol
] and is immediately interoperable with various SIP networks today including but not limited to:






Currently none of the popular IM (instant messaging) networks such as AOL/ICQ/Yahoo/MSN Messenger or Skype utilizes SIP which is the standard, non-proprietary approach to interoperability with other networks.
Ineen is built on top of previously reviewed and well-designed Xten
Xten's eyeBeam SDK.
The protocol utilized by Ineen to manage P2P, IM and Presence awareness is called SIMPLE. For video Ineen supports the open standard H.263.
Cons:
A weakness in the approach Ineen uses maybe on the use of traditional numbers instead of easier to manage buddy names to call other people.
The interface may also be a bit intimitading to the non-technical users, as it sports lots of lights and controls, which while make it look as a gadget from the future, will probably scare off those that are already battling with the much simpler, but still quirky, Skype interface.
Finally, probably due to the initial high number of requests for this first release, I am unable to even register my name and account with Ineen. So, for what concerns actual reporting of performance and audio/video quality, I will have to leave this for next time.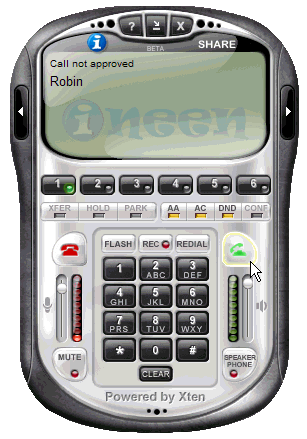 To start using it:
1. Download and install ineen
2. Share your ineen number with others
3. Dial the ineen user you wish to contact



System Requirements:
PC running Windows 2000 or XP
400 MHz processor
128 MB RAM
15 MB free disk space on your hard drive
Sound Card, speakers and microphone
Internet Connection (either dial-up [audio and IM only]: minimum 56 Kbps modem, or any broadband [required for video]: cable, DSL, etc.)
Macintosh computer with G3, G4 or G5 processor
Mac OS X v10.2 (Jaguar) or newer
128 MB RAM
20 MB free disk space on your hard drive
Microphone
Internet connection (any broadband: cable, DSL, etc.)

Free download:
PC version
http://www.ineen.com/download.html 2.5 MB
Mac version
http://www.ineen.com/download_mac.html
FAQ
Frequently Asked Questions can be found here:
http://www.ineen.com/faq_win.html
Problems
Report problems or potential bugs in ineen by posting under the appropriate category here:
http://support.ineen.com
Contact
To contact the ineen team please use this form:
http://www.ineen.com/contact.html


Update Sun Apr. 3rd 05
-------------
Sign-up bug has been fixed by Ineen. Everything now works OK.
My number, if you want to try is 2001972

Do i have to pay if i make a call on a mobilephone ?
---
According to sipthat.com ineen for Pocket PC will be out this month with Linux following not far behind. Cool!
---
You guys are right. I made a mistake and was misled into thinking that this could be considered open-source.

I was wrong.

Your negative comments are well taken. I should have checked better.

I have updated the info in the article and I am not referring to it anymore as Open-Source.

Thanks for pointing this to me.
---
open source?
Where is the code?
Don't use the words "open source" just for commercial gains.
---
Quote: "With Ineen, the first fully-featured open source and open-standards compliant audio and videoconferencing desktop tool is here."

In what sense is it "open source"? Looking at their site I can't see any obvious evidence of this.

---
According to the EULA at http://www.ineen.com/eula.html it's not even slightly open-source, as a very quick inspection would have shown:

"You may not sell, assign, rent, lease, lend, distribute, export, import or sublicense the Software."

Get your facts right before posting:
http://opensource.org/docs/definition.php
---
For those who were wondering about the business model: ineen is a product from XTen.
---
posted by Marjolein Hoekstra on Saturday, April 2 2005, updated on Tuesday, May 5 2015