Turn Your PC Into A Video Streaming Server: Olivelink
If Ourmedia still doesn't accept your file or doesn't respond to your support requests, it doesn't mean that it ain't good, it means only that they are really working hard at it (I haven't been able to upload a standard Flash file with their Ourmedia Publisher tool, nor I can with CC Publisher at the Internet Archive, and haven't had help from either team).
In the meanwhile, I suggest you give a good look, at what even Ourmedia looks forward to realize in the not so distant future.
Distributed delivery of rich media content allowing multiple Ourmedia clearinghouses to spring up and provide a more efficient and effective way of distributing content.
Olivelink is a new personal video streaming application that allows you to simply point the OliveProjector application to any video file you have shot or downloaded to your PC and make it immediately available to anyone who has an Olivelink Viewer (free - 794 kb). The great news is that the more viewers you attract to watch your video the better they will see your clip.

With Olivelink there is in fact no need to upload your large video files to any Web host or open archive like Ourmedia, as you only need to have the video on your hard disk and make it available via Olivelink.
Of course your viewers need to know the "name" of the clip you are broadcasting (which can be any name you want to assign to your clip) which you need to communicate to them, via email, IM or phone.
Olivelink takes advantage of all of the resources available to your PC, including the broadband connection required to make this possible. To achieve this magic, Olivelink engineers devised a rather ingenious way of essentially turning a desktop PC into a streaming media server. On top of this non-trivial achievement they also developed a set of advanced algorithms that aggregated bandwidth among "viewing" PCs to support the distributed streaming of data, just like BitTorrent does.
The end result is a little piece of software that allows any Windows user to stream high quality video directly from his PC with nothing more than a modest DSL or cable Internet connection-- no uploading, no downloading, no third-party servers, no maxing out the web server bandwidth limits -- just great high quality video with no length, time or size restrictions.
I found Olivelink to be extremely easy to use, and effective in the delivery of video clips from my PC.
To have a basic idea of the simplicity and quality that can be achieved with Olivelink, you need only to download the Olivelink Viewer and input as a name of a video clip you want to see either "San Diego" or "Kitchen Dance". These are two demo videos being streamed by the Olivelink team out of a standard PC at their premises in the US. (Additional user contributed user videos should start appearing here soon).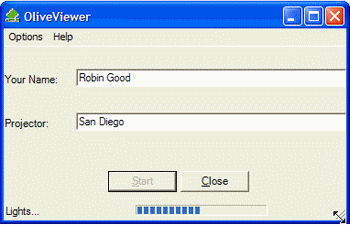 I was able to watch the demo video clip even in full screen and my average DSL bandwidth consumption during the playback was around 350Kbps. It must be said that given the early stages of their project and the relative little diffusion this tool has had so far, I am probably hardly benefitting from the distributed streaming and consequent improvement in video delivery quality. On the other hand the video played very smoothly, something that doesn't happen all too frequently when watching other media sources even at lower bitrates.
Right after the publication of this article you may experience a bit more of the positive effects of Olivelink distributed streaming due to the higher number of people connecting and watching the above demo clips.
To follow the development news, new releases and upcoming feature additions follow the writings of Terry Stuart and Sage Osterfeld on the Olivelink blog at: http://olivelink.blogspot.com/



Answers to your questions:
http://www.olivelink.com/support/faqs.html

System Requirements
Windows PCs only.
Windows Net Framework 1.1
OliveProjector (to broadcast):
800mhz PC with 256mb RAM running Windows 2000 or XP
Broadband connection (cable, DSL, EVDO, etc.) capable of minimum 100kbps upload
Video (or audio) in MPEG (.mpg, .mpeg, .mp3), or Windows Media (.wma, .wmv, .avi) format
OliveViewer (to watch):
800mhz PC with 128mb RAM running Windows 98, ME, 2000 or XP
Broadband connection (cable, DSL, EVDO, etc.)
Windows Media Player 9 or later
Free try-out (beta), request participation in the beta program here (you need to do this to unlock your software after download):
http://www.olivelink.com/survey
Download software here: http://www.olivelink.com/downloads/
posted by Robin Good on Monday, March 28 2005, updated on Tuesday, May 5 2015