Free Video Calls To Any PC Soon To Become Mainstream: Best Free Options And The Newest Kid On The Block, KwalityTel
That we are about to see an increasing number of Skype-like technologies enter the market, each one providing easy over IP audio and video capabilities while integrating more advanced functions and controls it is only a matter of time.
The good news is that most of these audio and videoconferencing tools are soon going to replace your traditional communication channels with such rapid sweep and effectiveness that you will be looking back at today's real-time communication approaches and will understand how primitive and inefficient they remain.
There are going to be more than a few innovators and new videoconferencing solutions appearing in the coming weeks challenging the existing established kings of this highly competitive and fast growing industry or better yet, expanding the application opportunities for this type of real-time communication tools.

3WVP is a new entry in this niche industry with a very interesting offer. Entirely based on Flash communication technology, 3WVP allows anyone to provide a direct one-to-one videoconferencing link in any web page or email, making it very easy for anyone, no matter on which computer platform, to connect and videoconference with you. 3WVP is a proud sponsor of TheWeblogProject and will be offering six-month free accounts to all project supporters. Try it out here.
But next to the offerings provided by the companies above, the newest kid on the block is called KwalityTel and it is a digital-based videophone which attempts to position itself as a kind of video-Skype, providing effective and easy to use one-to-one videoconferencing at no cost (multi-party videoconferencing for up to four people is also available).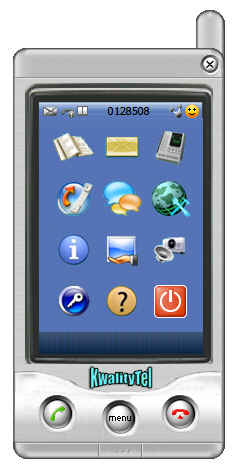 Similarly to SkypeOut, KwalityTel allows the pre-purchase of calling minutes which can be utilized to call contacts directly on their traditional telephones.
KwalityTel further integrates a full audio video recording facility which at the switch of a button allows the full recording of any conversation.
The interface is well designed, not cluttered with too many controls, while hiding quite a some fascinating advanced controls and functions under an extremely simple three-button interface.
Integrated in KwalityTel are also a contact list, network controls, and the future ability to hold a data sharing session.
Very promising indeed.


Cons:


Cannot yet prepay to dial out to standard telephones lines.
Windows only.
No integration with other instant messaging networks.
Tool and site not quite ready for prime/time.
Product and the web site supporting seem very much a work in progress, with many links not working, empty information pages and a general lack of technical information.
The site boasts also the typical marketing mantra, with a lot of smoke but little meat. In the About Us page for example it is stated that "Kwality is a company with a flat management structure and a philosophy of delivering first class services to its clients through team works.
We have always believed that our value comes from the clients' feedback. The quality of our services to customers is dependent on the quality of our people and we have therefore consistently invested in training them." But on the Kwality site there is no feedback form or an easy way to easily provide such feedback.
According to the (very scarce still) documentation you can enter in a data sharing session with anyone with whom you are having a live conversation. Unfortunately the feature doesn't seem to be active yet.




System Requirements:
Windows PC, broadband connection

Try-out: Free 30-days trial.
Pricing:
Monthly Plan $19.95.
Annual Plan
$239.40 for one full year with a free Webcam

posted by Robin Good on Sunday, March 27 2005, updated on Tuesday, May 5 2015