Wednesday, March 23, 2005
How Grassroots Low-Cost Conferencing Solutions Can Make My Event Look As Good As On WebEx: Live Presentation Today About Small-Scale, Independent Online Publishing
Sponsored Links
In a few hours I will be the presenter of a live event hosted by an interesting community of people: Talking Communities. Though I have hardly had the opportunity to yet seriously engage with them, I have long followed some of their interesting initiatives, technology choices and live events.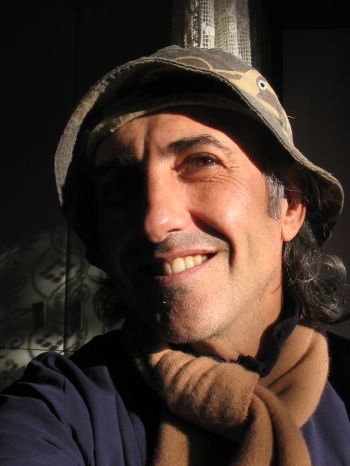 Talking Communities is a community of non-geek technology enthusiasts, who crave for learning and sharing more of what they know. You can see from the outset that money is not their first goal.
The community is made up of many handicapped users, and TC's leader, George Buys, is himself a blind man. Notwithstanding the physical limitations George and his good following have been catalysts to important initiatives, events and even to the development of new real-time conferencing and collaboration technologies.
Let me explain.

Talking Communities has been for once the organizing force behind Global Learn Day, a live yearly event that brings together during a 24-hour non-stop online conference, educators and grassroots e-learning experts from all regions of the world.
Talking Communities is also host to an ongoing series of live online events which can be freely attended by anyone without registration.
Many of the events run by TC cover new technologies that can help handicapped users especially in their ability to use new media tools (screen readers, screen magnifiers, text-to-speech conversion tools, etc.). Though the events are run from the US, Talking Communities is very open to re-run events on hours that can facilitate live viewing from those parts of the world that are too far away to warrant participation at a reasonable time.
Many of these events are also recorded (any attendee can actually record the event on her computer) and then made available to anyone, thanks to the effective conferencing technology George Buys and Talking Communities have contributed to give life to.
Yes.
Leveraging their own handicaps and suggesting design changes and dedicated features that could significantly enhance handicapped users ability to participate in real-time conferences, George Buys and his friends have commissioned a few years ago the design and engineering of a new (at the time) low-cost Web conferencing solution, that would take into serious account their own specific needs.
At the time the tool they preferred and which came closest to their needs was a service based on the little known but extremely effective Chatterbox technology, which was integrated into online services like the now gone VCom, Orbitalk and the much more successful and still available Voxwire.
All these services integrated the same underlying technology which allowed any standard PC with a normal dial-up connection to engage in live meetings with crystal clear voice quality, full co-browsing facilities, public and private text chat and more.
Though the system was light-years away from the sophistication and rich feature set of the various WebEx and (at the time) Placeware, it offered two things that weren't available anywhere else: excellent voice quality (entirely sent over the Internet) and a minuscule price for use (from $10 to $20/month or so for a 5 to 10 people group and unlimited meetings).
But as support started to lag behind the many needed upgrades and refinements needed by the system, users started to get annoyed as the broken issues and opportunities for improvement progressed at a snail pace.
And so George Buys and his team decided to take the ball and run with it, by commissioning to a talented Seattle programmer, Bryan Vergato, the execution of a new conferencing tool that, while being strongly inspired by the good traits of the Chatterbox technology, leaped beyond it by resolving all of its limitations and adding a few extraordinarily valuable additions.
The technology that emerged is now known as iVocalize, and though both George's and Bryan's web sites clearly show the lack of any financial backing and corporate support for their entrepreneurial efforts, the technology they have created sings for them.
iVocalize, is today one of the lowest-cost cross-platform (PC, Mac, Linux) conferencing solution integrating excellent voice over IP, co-browsing, full-featured public and private text chat, full recording (audio, web, text chat), moderator controls and an industry first: an integrated searchable blog generated by the text chat exchanges that happen during a live meeting.
I have extensively used and tested iVocalize without having any commercial partnership with either group. I simply liked the product and asked, like I do for any conferencing tool I like, to be allowed to evangelize its strengths while reporting back its weaknesses and bugs.
During 2004 I have run a few major online events as part of the Kolabora Live! series, not only using iVocalize as my delivery platform but further stretching its abilities with the integration of multiple live video feeds.
Even thought-leaders as Ray Ozzie and Howard Rheingold honored me on the iVocalize platform during a live video session, that while marred by technical issues on one of the participants hand, remains today a memorable souvenir of how effective this tool can truly be.


Howard Rheingold, Robin Good and Ray Ozzie
Today, I am joining George Buys and Talking Communities for a live event in which I will share my personal views and experience on: "How To Become A Sustainable Online Publisher: Tools, Strategies and Monetization Approaches."
This is the first of 5 live events I will be running for TC in the coming weeks an which will cover topics ranging from blogs to RSS to P2P: the acronyms that are going to be the critically strategic tools for anyone interested in making a successful use of the online untapped marketing potential.
Today, in a few hours from now, at 9am PST (12noon NY, 5pm London, 6pm Paris/Rome/Cape Town). All computer platforms supported, headset/speakers and mike (if you want to ask live question in the Q&A session) required.
Event at: http://www.talkingcommunities.com/ or direct link: http://tinyurl.com/3mqlv


(The event is made possible thanks to Talking Communities and PresenterNet, a live presentation technology offering a unique and very cost-effectrive feature set. Today I will be combining the power of PresenterNet with the one of iVocalize v4 to deliver a uniquely high-quality web-based presentation at the lowest cost possible.)
Disclaimer: I am in no way associated commercially with the companies mentioned in this article, nor I receive any type of compensation, commission for mentioning their products and my personal ideas about them here.