Wednesday, March 23, 2005
Customize Your News Page, Search Re-Usable Content, Share And Publish Your Best MultiMedia Clips: Google News, CC Search, Ourmedia
Sponsored Links
Wow, there is an explosion of good news around new search tools and technologies allowing each one of us greater control over what we can choose to read, play and listen to.
Three great announcements in particular are making my day bright: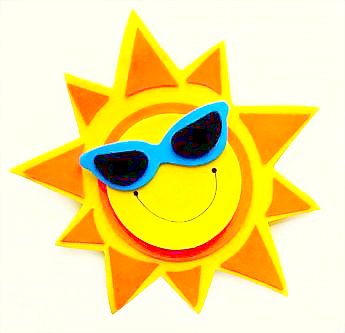 //www.ourmedia.org/">Ourmedia
Google News has just inaugurated an excellent News Customization facility on its News page. You must go give it a try. It is excellently designed.
A breeze to use and set-up. The facility allows you to select which news sections you want to se and to add, move and delete any of the existing ones. New sections added can respond to your specific queries, and report news about your specific interests and in your preferred language.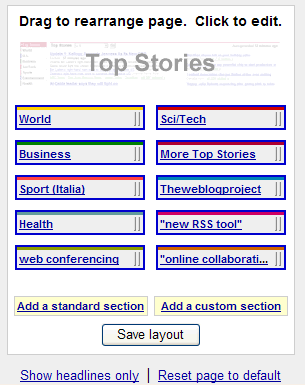 In my experience this is the closest thing I have seen to a personal journal that is not only free, but easy to setup and manage. Bravo Google.
On another front, the Creative Commons has recently launched its CC Search engine, an online new search gateway to find everyting begging to be re-used under the sun. From music, to movie clips and articles, the Creative Commons Search reports to you everything that is tagged for re-use. (Look forward to see RSS feeds be included in this).
"Full copyright applies to most stuff on the web. But this search helps you find photos, music, text, and other works whose authors want you to re-use it for some uses -- without having to pay or ask permission.

Copyright applies fully and automatically to any work. A photograph, a song, a web page, an article, pretty much any form of expression the moment it is created. This means that if you want to copy and re-use a creative work you find online, you usually have to ask the author's permission. This "all rights reserved" protection is good thing for many authors and artists. But what about those who want you to use their work freely without permission -- but on certain conditions?

This search engine helps you quickly find those authors and the work they have marked as free to use with only "some rights reserved." If you respect the rights they have reserved (which will be clearly marked, as you'll see) then you can use the work without having to contact them and ask. In some cases, you may even find work in the public domain -- that is, free for any use with "no rights reserved.""
[Update - Yahoo supports CC Search as well. See:
http://search.yahoo.com/cc
RG - March 24 05]
In another great announcement I was only able to pass on to others until now, is the final launch of the OurMedia grassroots rich-media clearinghouse online. The brainchild of Marc Canter and JD Lasica is alive and kicking. Go give it a spin.
Ourmedia alows you to publish and post online your videoclips, songs, audio recordings, interviews, podcasts and any other type of content you want to release under a non restrictive use license.
Ourmedia makes it also possible for you to republish such rich-media content on your blog and to syndicate your exclusive blog content on Ourmmedia.
"Ourmedia.org, a free global repository for grassroots media, allows anyone to upload, store and share digital works. The site will accept home movies, music videos, original music, audio interviews, photos, art, documentaries, grassroots political ads, animations, books, student films, software -- any work in digital form.

The site is open to amateurs, hobbyists and professionals alike. There is no charge for the service.

Ourmedia is open to all kinds of works but will focus on videoblogs, podcasts and other emerging types of media that are just beginning to catch the public's attention.

The effort, begun last June, has been largely accomplished as an open-source effort, with no income, no expenses and a central group of 50 volunteers working in a public wiki (or collaborative online work space) to build the site. Ourmedia, which will soon become a not-for-profit 501(c)(3), has partnered with the Internet Archive and Creative Commons, both non-profit outfits in San Francisco, and Bryght, an open-source content publishing company in Vancouver, Canada.

Ourmedia agrees to host such works as long as the authors or artists are willing to share their works with the global community.

Podcasters and videobloggers like the service because they can upload their media without being hit by hundreds of dollars in bandwidth bills, as sometimes happens when a file they host becomes widely popular.

Ourmedia will also test the boundaries of fair use, permitting inventive or educational mash-ups or "remix" works that contain small snippets of copyrighted work -- but drawing the line against infringement and illegal misappropriation of others' content.

With the help of a group of alpha testers, the site has hundreds of works available at launch, including new music videos, students' digital stories (short visual narratives), video grassroots journalism, animations, and music from both unknown musicians and popular artists such as David Byrne, the Beastie Boys and Le Tigre."
Available on the site is already the first basic tool for independent media publishers: the Ourmedia Publisher application. Based on the Creative Commons Publisher tool, the Ourmedia Publisher is available both for PC and Mac, and it allows the uploading of media files larger than 10MB
to the Ourmedia multimedia archive.
Go enjoy!