Extreme Bookmarking - Selection From 50 Del.icio.us Add-Ons: WeTaste
Sponsored Links
A hot technology trend of 2004 was social bookmarking, with the hype primarily circling around del.icio.us, Furl and Spurl. Last week I dug a little into the technical background of del.icio.us and was astounded at the enormous amount of tools available for it at this time.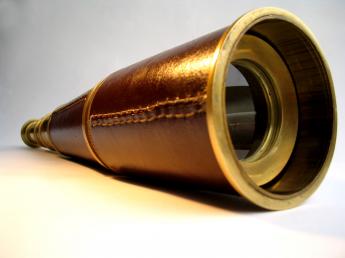 Photo credit: Marjorie Manicke
Of course the success of del.icio.us can be attributed to its ingenious reciprocity, allowing you to wander from one topic of interest to another. Another strong aspect of del.icio.us is that it lets you see who else bookmarked a particular URL. These two functional aspects of del.icio.us--together with the excellent implementation of RSS feeds that it provides--have convinced hundreds of thousands of users to use it on a daily basis.
But another, perhaps trivial and voyeuristic way of explaining the del.icio.us popularity is that it is just as exciting as to browse--with the owner's full consent--through a book or CD collection without the collector being aware of your prying eyes.
Recognizing the potential and popularity of del.icio.us from its early stages, quite a few programmers have gone out of their way to explore and prove that its functionality could be further enhanced. Although as far as I could discover the del.icio.us source code was never made publicly available by designer Joshua Schachter, he did offer the programming community an API for del.icio.us. An API (application programming interface) allows external programs or services to interact with another program or service. (On the web this interaction is mostly done through Perl scripting and XML.)
If you're interested in the origins of del.icio.us, then check out The secret origins of del.icio.us on the blog Mulling it Over. It refers to interesting conversations on the del.icio.us discussion archives with Schachter.
Thanks to the recent contribution of Pchere, a voluntary DMOZ/ODP editor, there is now a complete survey of all del.icio.us-related tools. Pchere published this del.icio.us mini-guide a few days ago on his blog Quick Online Tips That Work and it has received a lot of praise.
Pchere's del.icio.us mini-guide, titled Absolutely Del.icio.us - Complete Tool Collection, lists more than 50 references with descriptions and hyperlinks. Most tool names mimick that of the 'master tool'. Don't skip the comments section: the nice thing about this mini-guide is that Pchere plans to keep it current, and he kindly invites his commenters to contribute to it. There are over 20 comments to the article already as I write this.
Some of the references listed by Pchere were also in the list Greg Scher published in October 2004 in his article (Soooo del.icio.us people can't stand it! on weblogsinc.com.
For further examination I picked out one particular tool that both lists described in common. I chose it primarily because the words 'including pictures' in Pchere's description jumped me in the eye. The tool's name is WeTaste. Don't go out just yet to try it out before I get the chance to explain some of its characteristics to you.
Starting out with the description for WeTaste, Pchere's is an excellent one:
"A WYSIWYG digest tool for Del.icio.us. You may want more than just bookmarking on del.icio.us, not just the url and simple description, but the important part of the content you ever read (including pictures and it's visual effect) [bolding is mine--mh]"
In other words: if you like to save a url together with images, hyperlinks and text in full markup that you find on that very same page, then WeTaste takes care of that.
To start using WeTaste you need to first connect it to the name of your del.icio.us account. This is done on the YourTaste configuration screen (just follow the instructions on that screen). Then, every time you want to save rich content (images, text, links), just copy and paste that content into the WeTaste Wysiwyg digest tool. Provide title and url of the page you are bookmarking and press the Submit button. for your convenience there are bookmarklets available too.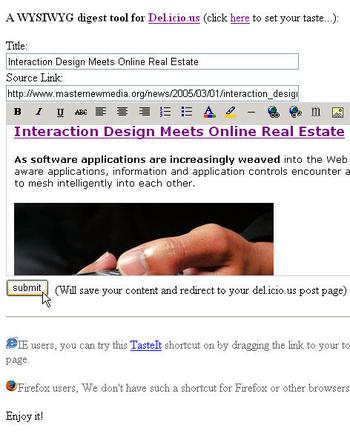 Using the WeTaste wysiwyg service on a recent post by Robin
The bright mind behind WeTaste is Isaac Mao, a Chinese developerfrom Shanghai. Isaac has been blogging since January 2002. If I look at what else Isaac is up to, then I think he's a smart guy with smart ideas.
Notwithstanding the smart idea behind WeTaste, the technicalities of its (ad-supported) implementation may make you decide to stay away from it after all.
WeTaste uses a uniquely generated URL that gets submitted to the del.icio.us server.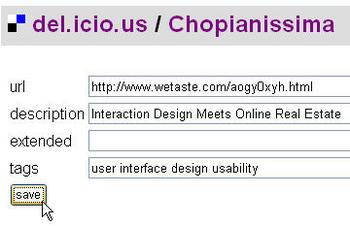 WeTaste inserts a unique url
So instead of submitting the original URL, WeTaste inserts its own URL hosted on the WeTaste domain in the del.icio.us URL box. In my example, that URL is http://www.wetaste.com/aogy0xyh.html
If you click on the url that is stored in del.icio.us by WeTaste, you indeed get exactly the parts of the original website that I wanted to save with del.icio.us. Do note that there is a banner ad at the footer of the page. As far as I can see these ads are seemingly innocent Public Server Ads by Google.
The important issue here may not be so much WeTaste's advertising model, but the fact that the original url of the bookmarked site gets lost along the way. This means that del.icio.us can no longer aggregate who else bookmarked this particular page. In my opinion this partially destroys the social component of social bookmarking.
Is there another way to create the same functionality without trading in one of del.icio.us most pre.cio.us strengths?
Update March 3, 2005:
I just received notice of the release of the very promising visual bookmarks service Wists. From its first looks (I haven't managed to get its browser marklet to work yet) the added value of wists is that in addition to automatically created thumbnail images, you may also use 'multi_word' tags and groups of tags, such as this example from the Wists website: Restaurant location=ny type=sushi. Wists has a strong 'social' component: if you click on items to add your wists from other users or someone else adds from your wists, they automatically become part of your network of friends. Of course there's RSS support too.
Wists is still in beta and is heavily in development. Keep an eye on David Galbraith's weblog, the genius who founded Wists and be sure to track the buzz on the Web about it (MH).
this page looks more like an ad than a page with content it spans forever with ad-like interface
---
There's a lot more going on than just Wists and blogmarks!
Check this list: http://3spots.blogspot.com/2006/01/all-social-that-can-bookmark.html
---
Hey. I notice that you mention Wist in your post scriptum but do you had a look at http://blogmarks.net ? Regards,
---