Sunday, February 27, 2005
Create Flash Presentations On The Web: Shaker
Last week Lawrence Lessig sent out a request for a cheap and simple, cross-platform solution to control the delivery of a presentation remotely. The conversations that followed in the blog's comments section are a very interesting read, although no true 'killer' solution is provided yet. For a summary of the conversations read Robin Good's article How To Deliver A Mac Presentation To Distant Viewers? Lawrence Lessig Finds Out.
What makes the conversation worthwhile is the willingness and ingenuity of Lessig's readers to come up with a creative solution to a recurring problem. I decided to have a closer look at one of the suggestions, a Flash-based tool named Shaker that allows you to create Flash presentations.
Shaker is the product of a group of Hungarian web developers called Mimoza Communications. In 2003 their product was rewarded with the prestigious Technical Merit award at the FlashForward conference in New York. FlashForward is a major yearly event gathering thousands of Flash developers and designers.
The interesting part about Shaker is that it uses Flash template technology to facilitate the creation of Flash presentations. The choice of the Macromedia Flash technology makes Shaker truly cross-platform and browser independent.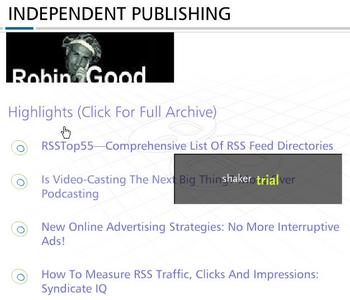 Click to start the MasterNewMedia presentation created with Shaker
I found the program very easy to use. The program offers basic presentation templates and allows you to clone these for your own presentation. A Shaker template typically consists of a slide layout (determining the slide background, logo placement etc) and of definitions for the various objects that you can add to your presentation. In turn the objects in each template have preset styles that you can choose from. Registered users receive the full documentation to create their own presentation template from scratch using the Shaker template editor.
The Shaker online help contains detailed descriptions of the engine, templates and network services, which together form the Shaker presentation system.
The Shaker user interface is slick and impressive with menus and controls--usually referred to as widgets--that allow you to accomplish the following tasks:

Insert links to web pages and links to slides within the presentation


Insert text boxes, images and flash files


Insert graphic objects, like bullets, lines, arrows, circles etc


Insert charts and tables


Align objects


Group items


Create various animations


Duplicate existing slides


Preview and print the slideshow


I found the process of creating a simple 6-page slideshow about MasterNewMedia straightforward and experienced no difficulties. Though I am not a presentation expert, I felt no need to consult the Shaker documentation. The size of my presentation is 500 Kb.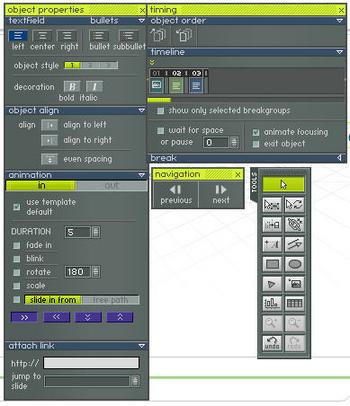 To add video or audio to a Shaker presentation you first need to convert these into Flash yourself. I consider this a shortcoming of the product.
Once a presentation is finalized, it can be shared online with other Shaker users. There is also an internal messaging system available through the same services, dubbed 'Remote Groupwork'.
Presentations can be run straight from the Shaker website or from your own website. The Shaker Digital Handout system allows you to provide others with a temporary username and password so that they can watch the selected presentation using the Shaker online system.
You may export presentations as SWF or as Windows EXE files, which makes them suitable for distribution on auto-run CD-Roms. It is important to note that a finalized presentation is indeed 'final': it can no longer be edited. This need not be a problem because it is very easy to create a new presentation by cloning an existing one.
To Be Improved

It would be nice if there were an option to add video, sound clips and voice narration to the presentation using ubiquitous native formats like wav, mp3, mov, wma etc.


The attach-hyperlink field that you can use with a text box expects a web address starting with the 'http://' prefixed stripped from the url. If you forget to strip the http prefix, the link will not work in the final presentation. Though most probably intended as a courtesy to the user, in practice this is not such a useful gesture.


Add drag and drop support the creation of links to web pages and links to presentation slides


Lower the price: the current license fee of USD 467 for a 12-month subscription makes this tool unaffordable for independent professionals and for small businesses.


Shaker requires no download and no client installation except for the Macromedia Flash Player.
A full-featured 15-day trial version of Shaker is available after registration. Presentations created with the trial version contain a rather conspicuous Shaker logo in the middle of each slide.
Shaker is sold on subscription basis. A single-user, 12-month license costs USD 467 (buy) allowing to create an unlimited number of presentations.
Links to the Lessig Conversations:





posted by Marjolein Hoekstra on Sunday, February 27 2005, updated on Tuesday, May 5 2015