Wednesday, February 23, 2005
VideoBlogging Wiki - Me-TV.org Shows Way For Virtual-Vertical Community Collaboration
Me-TV's VideoBlogging Wiki is an outstanding example of how online communities can use Web-based collaboration tools to create valuable knowledge bases--for themselves and for others to share. It's also a great resource for anyone tinkering with videoblogging, or vlogging.
The Wiki is the product of a fast growing Yahoo! Group dedicated to all things videoblogging--"We discuss practical issues (bandwidth, process, need for a videoblogging tool) and more philosophical issues (why and what is a videoblog? ...)".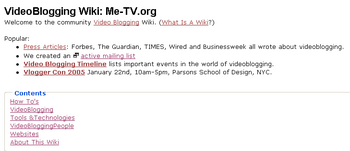 Since June 2004, when Robin Good praised the people behind Me-TV for recognizing videoblogging as the next online trend, their wiki project has developed into an authoritative resource. If you ever need an example of how a virtual group of co-interested individuals can produce and publish valuable knowledge and peer-vetted analyses--this is a good one.
This Wiki is a good example of how a group of people with a particular interest collaboratively aggregates and arranges all sorts of information. In this case, this vertical online community (some would call it a 'vortal') is comprised of those interested in Videoblogging.

The Wiki officially defines 'Videoblogging' as:
"videoblogging is seen by some as glimpses of personal communication to the world with the use of moving pictures. It is mostly first person, Me talking to the World, but it can equally well be an interview with others, or a story, or an essay delivered in speech."
The Me-TV.org Home Page neatly presents key information categories as:


How Tos: getting started, equipment, HTML and blog integration, tools


VideoBlogging: examples of implementations, discussions and manifestos


Tools & Technologies: advanced technologies, specifications and formats


VideoBlogging People: links to websites of famous and less famous videoblogging personalities


Websites: additional links to relevant resources


Me-TV.org is just one of the sites worth a visit if VideoBlogging is your thing. Be sure to check out the following sites:

So, go ahead, explore this new trend of videoblogging and share your experiences with us here.
posted by

on Wednesday, February 23 2005, updated on Tuesday, May 5 2015