Thursday, February 17, 2005
How To See Live Concerts Online? SMS Reverse Billing Fuels X-Events Delivery Potential
If you ever wanted to attend a concert, but for some reason were unable to go and see it live, then watching it live through your Web browser, from wherever you happen to be, must be a good second-best.
Being able to pay for the experience via your mobile phone, simply by accepting a premium SMS message and having the cost billed to your phone's account, can only add to the pleasure. No security worries about revealing your credit card details to make an online payment. No problems if you don't have a credit card.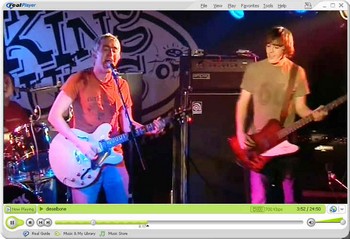 MyVBX.com delivers live concerts direct to the desktop and uses txtNation to handle a worldwide premium SMS reverse billing password payment service.
MyVBX uses wireless networking for the broadcasting of gigs as they occur. All that fans need to see the event live is a broadband (ADSL) connection, RealNetworks Real Player 10 and to purchase an E-Concert Ticket.
"The idea of the broadcast is not to provide a fully edited film but is to provide a "Fans" eye view of the gig at an appropriate price. (Generally 60% of the door price.)"
With all live concert and gig streams provided from servers in the London Internet Exchange, MyVBX claims to be able to "provide live concerts in unrivaled quality in terms of video and audio output for between 250,000 and 500,000 people concurrently".
You can buy an e-ticket through MyVBX's site using a credit or charge card. Nothing innovative there.
However, when you click on the "Buy Ticket" button on MyVBX's site, you can also choose to pay by SMS. That's revolutionary.
If you choose the SMS option, you're then given a number which you send a blank SMS text message to. The SMS payment service provider, txtNation, then texts you a unique password. It is the cost of receiving this premium SMS message that represents the cost of the e-ticket. The charge is added by your mobile phone operator to your monthly bill, or, if you are a pay-as-you-go customer, the charge is immeditaely taken from your balance.
This is known as "SMS Reverse Billing".
On completion of the transaction, you enter your password at MyVBX's site and are then able to view the concert live.
There's no doubt that premium SMS services offer a revolutionary way for online content creators, in particular independent publishers and x-event producers, to monetize some of their offerings - instantly, safely and securely.
Think...how many other opportunities are out there to extend access to live events, seminars and conferences in such simple ways?
How could SMS Reverse Billing help to expand your own online sales and marketing opportunities?
In Italy we are always the worst... For us the sms reverse billing is disabilited !!
---
posted by

on Thursday, February 17 2005, updated on Tuesday, May 5 2015