Saturday, February 12, 2005
Video Editing On Mobile Phones: muvee
It is now possible to edit video clips from your mobile phone and make a splashy presentation enriched by synched cuts, special visual effects and titles, all without having to learn complex software or editing techniques. The only thing you need to have are some good video clips and cutting-edge software from a South-East Asian company.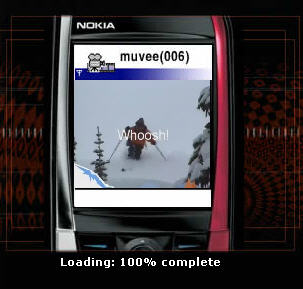 Muvee Technologies, a Singapore-based company recognized for its pioneering Muvee AutoProducer software, has partnered with Nokia to bundle Nokia phones with an application that allows you to nicely wrap up any raw movie with music clips, graphic effects and smooth scene transitions. You can then pass these styled movies on using MMS, the mobile Multimedia messaging service for cell phones.
This dedicated application is called Movie Director and works right off specific Nokia phones. Currently Movie Director comes bundled with the Nokia 3230 (GSM only), Nokia 6630 (GSM, 3G, WCDMA, Edge & 2G), Nokia 6670 (GSM only) and Nokia 7610 (GSM only). All of these phones use the Symbian operating system with the Series 60 smartphone user interface.
The user can select from hundreds of themed styles available for purchase (pricing starting from USD 3 for each style) from the muveeMobile website. On the purchase page each style is presented with an animated preview which allows you to see what you will get when you click the Buy button. Each style is like a template, with its own music, clip-art, effects, graphics, text messages and transitions.
The nice thing about the muveeMobile web store--apart from being multilingual--is that it very precisely informs you whether the product you intend to buy will work on the specific network of your mobile service provider in your own country. You can opt to download the style directly to your phone--this delivery is based on inter-operator WAP push--or have it delivered as a gift to a friend's phone by SMS.
The video messages created with Movie Director and the muveeMobile styles can be saved as video files in 3GPP format, the video standard that is based on MPEG-4, which in turn was derived from Apple QuickTime. To play back 3GPP files you need QuickTime or the RealPlayer plug-in for 3GPP video files. If you open a 3GPP with your web browser, the required plug-in will automatically be installed.
Note that messages are always limited to 100 Kb. And, just having one of the phones listed does not guarantee that you will be able to receive muveeStyle items on your phone. Your handset's network needs to support this, so you may want to check this out carefully before you decide to order.


Relevant Articles and Resources
What can i do with the Movie Director application? (Nokia 7610 FAQ document)
My Symbian, Portal for Series 60 enabled smartphones
posted by Marjolein Hoekstra on Saturday, February 12 2005, updated on Tuesday, May 5 2015