Thursday, February 3, 2005
Animated Flash Presentations : Powerbullet Presenter
Whoever thinks that animated presentations are the exclusive territory of PowerPoint professionals and skilled web developers should look at a nifty, free presentation utility, just discovered by Chiara Monetti: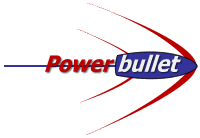 "Powerbullet Presenter is a small and simple freeware Windows application that creates presentations in Flash format.

Even if you have no experience, you will be able to create an effective animated presentation just by typing, clicking and dragging. You can drop in sounds and images from other sources as well. Furthermore, you can also paste in formatted text from other files. You will just have to click the Export button and both the HTML page and the embedded Flash files (SWF) will be automatically created for you."
Powerbullet Presenter is also capable of producing an executable file that will run on any Windows PC.
If you need even more functionality (such as special effects and custom buttons, access to Javascript functionality and auto-fullscreen mode), you may want to consider the advanced feature set of the Plus version, which is sold at USD 19.95 and which gives you a life time of updates to the program.
Powerbullet Presenter is developed by multimedia specialist Mark Carolan from Sydney, Australia. Mark hosts an active Powerbullet Presenter web forum that he uses to announce new versions and trigger lively discussions about the tool's capabilities. The forum also contains a section where users can show off and share their Powerbullet presentations.
Read the full review on masterview.ikonosnewmedia.com.
Some examples of presentation created with Powerbullet Presenter.
Free download here.
posted by Marjolein Hoekstra on Thursday, February 3 2005, updated on Tuesday, May 5 2015