Tuesday, February 1, 2005
Inside Marqui: A Good Conversation With Patrick Jones
Online good conversation with Marqui's Patrick Jones.
Marqui is a Canadian company making inroads in the content management marketplace with a very cost-effective hosted CMS.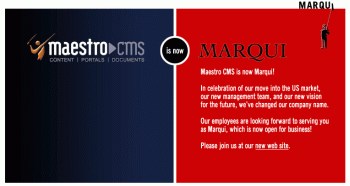 During the 32' conversation I ask Patrick Jones, who is a system engineer supporting the development of custom templates and customer implementations, which are the key strengths and weaknesses of the Marqui CMS, areas for improvement, customer feedback, interface and usability issues and what I think are the areas where the product can be further improved.
If you are unfamiliar with CMS and wonder what some of the differences between a blog and a full CMS really are you may find this conversation a valuable reference.
We end this good conversation by turning the roles around and letting Patrick shoot a few salvos at me.
Click to listen immediately.



P.S.: I have tried to ask some difficult questions to Patrick, and though he was candid enough to acknowledge some of the future growth area of this promising technology he was an excellent interviewee and a skilled spokesperson for the company.
Was I the Marqui CEO, I would be pretty proud of him.
He flexed, but he never bent.
Good listening.
You can also download the full recording file in WMA or MP3 audio formats:
.WMA (Windows Media) 4.2 MB
.MP3 zipped 7.6 MB
Duration: 32"
posted by Robin Good on Tuesday, February 1 2005, updated on Tuesday, May 5 2015