Tuesday, January 25, 2005
From VHS To DVD In One Click
Cost-effective new tools are finally here ready to help every video collector and home video maker dream of cheaply transferring their old VHS, Betamax, or Hi8 tapes into fully digital and harder to abuse DVD-based recordings.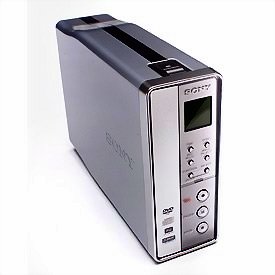 Sony DVDirect VRD VC10 - USD $ 239-300
The great news is that not only these devices have finally matured both in terms of reliability, features and ease of use, but they are now cheap enough not to warrant a dedicated budget to start using them.
"If your PC is of relatively recent vintage and already has a DVD burner, you're halfway there; simply add a USB or PCI analog-to-digital video-capture device ($50 to $100, with software)."
But if you're starting from scratch, consider one of the promising products from HP, Iomega, and Sony which PCMagazine has just put under test.

Each one of these new DVD recording devices integrates an analog video-capture interface and a DVD rewriter. They all connect to your PC via USB 2.0 (one of them even works with no need for a PC).
In addition to providing full VHS-to-DVD recording abilities, these units double up as typical DVD/CD burners for backing up PC-resident files, mastering music CDs, and distributing large multimedia files to customers or colleagues.
In order to test these new devices, PCMagazine supplemented their standard DVD benchmark-test suite with video-capture tests designed to reveal differences in recording quality.
They also evaluated each unit's ability to handle older, less-than-pristine source material by attempting to capture content from severely degraded VHS tapes.
posted by Robin Good on Tuesday, January 25 2005, updated on Tuesday, May 5 2015