Sharing Italy's Artworks Via The Web: Creative Commons Italia Calls To Action
There are many, many Italian public domain artworks, whose reproduction rights have expired or on which there are basically no copyright restrictions.
The time has come to leverage the power of the Internet to make all of these masterpieces accessible to everyone.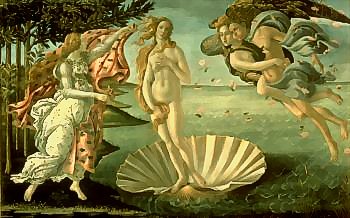 La Venere di Botticelli - Canali Photobank
The promoters of Creative Commons Italy have issued a Call to Action to cultural and pro-sharing groups and associations with the goal of cooperating to the realization of this ambitious and enthusing project.
The project is being launched under the tagline "Scarichiamoli!", which in Italian means "let's download them!" and it will be supported by a proposed law on which CC is already working on. The organizers of the project say that the proposal can be summarized in a tagline: "What is financed with public resources must remain under the public domain, publicly accessible and freely available for reuse".
Ad this is no small feat.
As Google is accelerating its own effort to bring to the Web all public domain content that fills the shelves of prestigious libraries now the CC Italian chapter is requesting that Italy does its part by giving a good answer to the great opportunity offered by the Internet: the sharing of knowledge.
"Internet is best medium to enable community and citizen demands to easily reach those who are assigned to answer them".
We want to download music (think of the immense classic cultural heritage of Italy in this area), writings, images, and any other intellectual work whose copyright have expired and on which there are no other usage restrictions."
The vision is clear. Internet has become a solid global reality that has reached individuals in their daily life. Its potential is vast and evident to everyone. If you add to this the new opportunities created by new media technologies like the land-digital system and other technologies within the reach of large cultural institutions, then the picture gets even clearer.
"We think that initiatives like this will be more and more common in the near future. To publish, broadcast and share our cultural wisdom and know-how: this is what Internet communities and citizens asks."

"We - explain the CC Italy organizers - are not only asking a revision of our present copyright law but we demand that the state finances and executes an online art portal, dedicated to culture, public domain knowledge. A web portal whose password is: Let's download them!".
To find out more please check this Creative Commons Italy page and help promote this good initiative.


Original Italian article: Punto Informatico
Italia, scaricate tanto scaricate tutti
http://tinyurl.com/44bzk
posted by Robin Good on Friday, January 21 2005, updated on Tuesday, May 5 2015