Thursday, January 20, 2005
How To Measure RSS Traffic, Clicks And Impressions: Syndicate IQ
Sponsored Links
Being able to measure, quantify and analyze in depth the number of subscribers, clickthrough rates and channel preferences (when you have, like I do, many RSS feeds covering different content categories), is of vital importance for any online publisher producing and wanting to monetize RSS feeds.
But until now, there have been no effective solutions, and only a few brave and incomplete attempts have been made at getting RSS metrics right.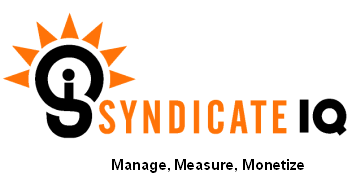 It has been only a few weeks, in fact, since Stuart Watson has started to seriously test a new powerful and potentially very capable system that can not only track the number of new subscribers to each one of your RSS feeds, but also the articles they prefer, the ads or promotions they click on, and nearly as much detailed Web metrics as a traditional Web log analysis or traffic monitoring technology could do.

I have virtually sat down with Stuart Watson, CEO and founder of Syndicate IQ, to learn more about this technology and to understand better how it works, what it can do, how much it may cost, and who it is competing against, among quite a few other things.
In the coming weeks, I am myself going to test out the Syndicate IQ technology on my array of 30-plus feeds and will be able to report on effectiveness, usability, performance and benefits in about a month or two from now.
Setting up the system has taken up so far a little more than I thought would be needed, but it is also true that this is not due to Syndicate IQ, which has provided maximum support and availability in helping me set its technology up, but rather to the fact that I have had to spend some time in fixing and correcting a few RSS feeds that didn't seem to wanting to behave according to official standards (the typical problem with RSS in this situations is the conversion of certain special characters for which there is no official standardized approach. While the RSS feed may apparently work fine, tools and systems that check and validate your feed for compliance with the official standard will complain when meeting those unknown characters. I have had the problem before with FeedBurner, another interesting player in this space, and in both cases I was rather happy of being notified by these systems that something was just not right with some of my RSS feeds. If it hadn't been for FeedBurner and Syndicate IQ I would certainly have such inconsistencies and small bugs in several of my RSS feeds.)
Syndicate IQ's key goal is clearly one of serving online publishers who publish a significant number of RSS feeds and who have high interest in monetizing them.
According to Stuart Watson, Syndicate IQ and similar services that are just now springing up in the market are going to give a great hand to online publishers in identifying alternative and complementary new ways in which they could monetize their RSS feeds.
If publishers want to find out how, when and where their RSS content is being used, then a solution like Syndicate IQ could indeed help a great deal.
The technological approach that Syndicate IQ has taken to track RSS feeds subscription and use, is the automatic generation of a unique RSS feed URL for every new RSS reader/user polling my content.
By having a unique RSS feed URL for each user, it becomes child's play to track and monitor what that user will exactly do with my feed. Times, days, content preferences, clickthroughs. I can find out all of this with just one click. Which story worked better? What sponsors are being clicked on? Which days and times generate the greatest attention? And so on.
If your worry is fear of having to lose your domain reference from your newly setup trackable RSS feeds (that's what you need to give up for example on Feedburner in exchange for getting some metrics), you need not worry. Syndicate IQ does allow you to optionally maintain your original domain in the RSS feed URL, helping all those that leverage RSS feeds for SEO/SEM work to maintain all of the benefits of this.
If you want to start doing serious RSS-based ad campaigns across multiple RSS feeds while being able to know which users have seen what ads, and leveraging all of the potential of geo-marketing, Syndicate IQ is right now the technology to test.
It is also true that many publishers may not want at all to introduce targeted ads inside their RSS feeds, but even in these cases, having the ability to track subscriptions, reading trends and click-through preferences provides a great deal of valuable editorial insight. And who said that RSS feeds can be monetized only by placing ads inside them?
As it emerged in my conversation with Stuart Watson, there are many other ways that could be used to make RSS publishing sustainable if not profitable altogether. And, given my general aversion to interruptive advertising and openness to new and alternative advertising/promotional approaches, I do deeply agree with his take on this.
RSS feeds can be best monetized by becoming aware of three critical factors that can be controlled while delivering RSS-based content that is precisely trackable:
a) Personalization
b) Targeting
c) Optimization
By taking control of what gets to be sent to each one of your RSS-based reader groups and subgroups and by personalizing that content in ways that provide greater value to the end reader is clearly one of the new ways to go about extracting profit from this new-media delivery channel.
If you think this is stuff that may indeed interest you and your online publishing plans, I strongly invite you to listen to this 17' audio conversation with Stuart Watson. You will understand better what is involved and you will learn also how you can test and find out more about this system.
Recommended.


Here is our recorded Good conversation:
.WMA (Windows Media) 2.7 MB
.MP3 (zipped) 4 MB
[ Read more ]
they have ceased operations!
---
Thanks for this great interview Robin ... terrific job as always!

I'll look forward to your updates on how Syndicate IQ works for you. Really exciting technology --especially with the potential of personalization, micro-segmenting, and optimizing multiple feeds.

Thanks for staying on the bleeding edge and bringing us along with you.

Aloha!
---
This is great Robin.

Will you be able to provide some example reports...screenshots, whatever. Would be good to see the output.

Alex.
---