Wednesday, January 5, 2005
Automatic RSS Submission Tools: RSS Submit And FeedSubmitter
Getting your RSS feeds in place is not enough to get your headlines—and content, if you will—picked up by RSS indexes and directories.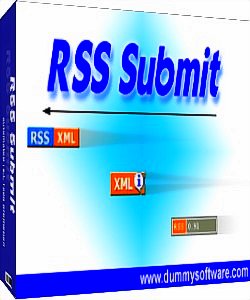 Robin Good realized this long ago when he first started offering his collection of RSS feed submission sites (RSSTop55 - Best Blog Directory And RSS Submission Sites). Over time this document has become an authoritative resource and frankly, Robin was just about to release his own automatic submission service. But someone beat him to the finish line!
The Good news is that Kory Becker, owner and chief programmer of software development company Ksoft, has just announced the public release of a tool that beautifully complements Robin's meticulous work and that works out of the box right now. Here is what I have found out what about it:
From the tool's product information page:

"RSS Submit is the quickest way to submit your RSS Feeds to the RSS search engines. RSS Submit automates the process of submitting your RSS feeds, publishing your content, and getting more traffic.

RSS Submit supports the following RSS Search Engines:



Yahoo


Moreover


News Knowledge


Syndic8


Newsmob


Sourceforge


YellowBrix


Genecast


Blogdex


Popdex


BlogStreet


BlogWise


BoingBoing


2RSS


BlogDigger


Bloogz


EasyRSS


EduRSS


Fyber Search


Memigo


News Trove


RSS Clipping


Feedster


DayPop


Technorati


Postami


PubSub


BulkFeeds


Feeds Farm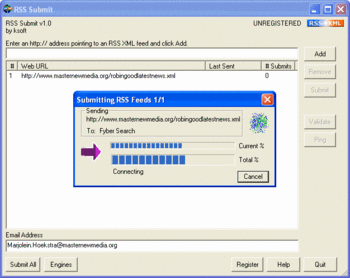 RSS Submit clearly reports on its submission progress
Becker, whose other virtual offspring PopupDummy won high marks from PC Magazine, clearly understands how to write courteous software:

The user interface is simple and easy-to-understand


The download is incredibly small, just 779 Kb


Multiple RSS feeds may be submitted simultaneously


Users may determine to which directories they want to submit


Submission progress is clearly gauged on-screen


Detailed submission results from each site are displayed after completion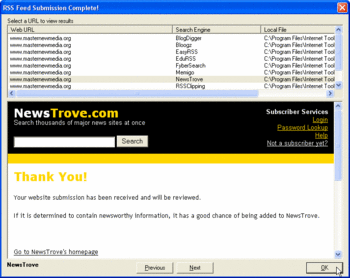 RSS Submit results with NewsTrove
RSS Submit costs US$24.95, including free, life-time updates
The 12-day free trial (779 Kb) allows to evaluate the software with three feeds and a reduced number of directories.
OR
You can jump right now into this desktop-based, free, less ambitious, alternative. This is the just-released FeedSubmitter from Thomas Korte.
This Web-based, free service lets you add your RSS newsfeed to 15 RSS aggregators as well as to Google and Yahoo Search.
Just enter your Feed URL and email address. The script will do the rest and give you success/error messages for every site.
This is not a full-blown commercial product, but it does a pretty good job at what it is supposed to do. I have indeed tested it and it does work.
Feedback and bug reports should be addressed to:
thomask[at]gmail.com
Thanks for posting the article.
Do check this might do some good...

http://submitrss.ezedir.com
---
Its help me a lot. Thanks
---
This program has been an absolute big help for my feed. It submits any type of feed literally at the speed of light.
---
This is the best program I ever used
---
This is the best program I ever used
---
exporters:die cutting m/c.,corrugation plant,continue box stitching m/c.,book stitching m/c.,&coils,perfect book binding m/c.,paper lamination m/c.,offset printing machine,plate processing equipments estc.
---
Do you recommend submitting your rss feeds just once? Also, should your blog have some content built up prior to submission or doesn't that matter?

Thanks!
Mike
---
Great stuff!
Thanks for posting the article and the link to the program of Thomas Korte!

regards
Hans
---
Robin,

Yet again the most pertinent, useful and resouceful of articles.

I find this to be the perfect tool for submitting feeds and it's so affordable, a real treasure of a 'find' courtesy of the noble knave of Sherwood :O)

Sir, I bow my head to thee!

Mike
---
Most Excellent article Marjolein! This is perfect. I've been submitting manually for months now and it's a royal pain. Thank you for posting this.

Tom
---
posted by Marjolein Hoekstra on Wednesday, January 5 2005, updated on Tuesday, May 5 2015