Next Generation Hyperlinking Standards: Fat, Typed, Annotated
Each of the bimonthly newsletters sent out by Useit.com Jakob Nielsen is a little treasure of practical usability advice.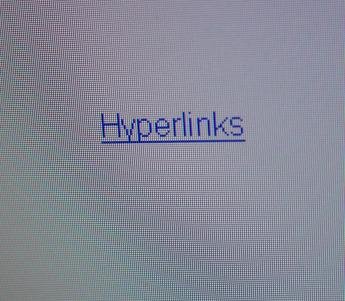 Photo credit: Philipp Mamat
In yesterday's issue, titled Reviving Advanced Hypertext, Nielsen once again breaks a convincing lance for the introduction and standardization of several useful hypertext features:

Nielsen writes:
"Since the first hypertext systems in the 1960s, many more features have been invented and several turned out to be useful. Maybe it's time to implement some of these features for the Web.

Fat Links
Fat links are links that point to more than one page. Now that browsers like Firefox and Safari support tabbed browsing, it's possible to have a link that opens up multiple tabs, and thus lets users access several destinations in one click.

Although many users like tabs, I'm personally less enamored of them ... "
I agree with Nielsen that tabbed browsing is far from ideal. I personally favor the thumbnail sidebar navigator approach of iRider. The iRider developers understood the power of fat links: it is a standard feature. My personal preference for a non-mainstream product based on Internet Explorer of course means that I dearly miss the hype around Firefox first-hand. Firefox is my secondary browser, however, and with a convenient ActiveWords shortcut command I can quickly switch to display any page in Firefox.
With recent years' proliferation of browsers, each offering a different set of potentially useful features, it is sheer impossible for non-geek, average Internet users to determine if and when to make the transition. They will wait until a well-informed friend or colleague they trust tells them to do so. Their browsing experience would already be greatly improved if the industry and leading online publishers would adopt and implement Nielsen's recommendations for the visualization of typed links:
"If the user interface formally recognized different link types, it could display and manage them differently. The most obvious type distinction is between a web site's internal links and links that point to other sites. "
Yes, and please don't use any icons in hyperlinks—they distract too much. Continuing his plea for hyperlink standardization, Nielsen writes:
"Of course, typed links could have many uses beyond the simple internal/external distinction. For example, browsers could treat destinations that require micropayment or registration differently than free links. Similarly, they could distinguish between links to arguments that support or refute a position. "
If I may add to this: it is essential that web site visitors know where they are taken by clicking on a hyperlink. There are several ways to implement this already. Content management systems, web authoring tools and blogging software could facilitate this by allowing web authors to differentiate between several types of links. If such an editing system would also be smart enough to pre-fetch the linked page for a web author while editing the page, then the author could quickly and automatically create a distinct hyperlink containing a tool-tip with the page title.
The frequently used types of links that come to my mind as a contributing editor to this site, are

off-site links vs internal links


original source of a quotation


definitions, encyclopedic information, translations, biographic information


download links


paid links


Lastly, Jakob emphasizes the importance of user-added structures, like annotations:

"Annotations superimpose user-generated content, such as text, doodles, or links to other sites. This structure has many uses, including simply letting you post reminders to yourself about your last experience with a site. "

The implementation of a transparent, graphical annotations feature probably is an easy challenge for any developer skilled in designing browser add-ons. There have been several attempts in the past; some have ceased to exist, but none of them are widely used at the moment. The note-taking utility Quick Notes Plus allows to attach text-only notes to web pages. The note pops up with every future visit. As with the other recommendations done by Nielsen of course it is crucial that they are explored and elaborated by one of the web standards organizations.


AlertBox is Jakob Nielsen bimonthly newsletter.
It is distributed for free by email.
posted by Marjolein Hoekstra on Tuesday, January 4 2005, updated on Tuesday, May 5 2015