Wednesday, December 29, 2004
Google Sponsored Links
Want to know who are the paying Google AdWords advertisers connected to any keyword/keyphrase?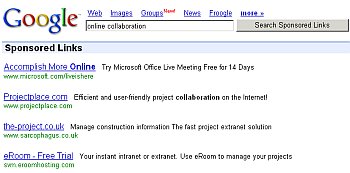 By typing any keyword/keyphrase Google Sponsored Links will spit out a clear list of text-only ads from all Google advertisers that have paid to be displayed when they keyword you have used is searched for. Yes, these are the same advertisers that we see show up either on the right side column of Google search engine result pages and/or inside the pages of many independent web sites (like this one) where they are automatically displayed next to the content.

What can you do with it?
Companies
Advertising companies can scout a topic industry based on a keyword/keyphrase and see who else is already advertising by targeting the same words.
Users
Users can find interesting resources that they were not aware of and that have recently started to advertise through this program.
Bloggers, journalists, reporters
Can monitor new entrants in specific markets and industry niches by tracking new ads.
What other useful things could we do with this service?
How about that ideal RSS adfeed I suggested for consideration for some time ago. Is that still something no-one sees value in?
What do you think?
Try out Google Sponsored Links here.
Thanks for the info,
Another use for the Google Sponsored Links Tool would be to use it to see what your competitor's ads say. You can model your ad design after the ones that look like they offer the best benefit to the customer.

Roger Seher
www.Vacuum-Sealer-Bags.com
---
posted by Robin Good on Wednesday, December 29 2004, updated on Tuesday, May 5 2015