Wednesday, December 15, 2004
Online Audio Conversations: The Channel With A Heart
Sponsored Links
What is so great about radio and audio communications, versus the written ones, is that you can actually hear the "true" voice of the people involved. While it may take longer to listen to a radio interview or to a so-called podcast (Internet on-demand commcasting) rather than reading an article summarizing the same topic, there is no way that you can get the same rich texture of conversation, insight, and sense for the speakers' character as when two persons are talking to each other live.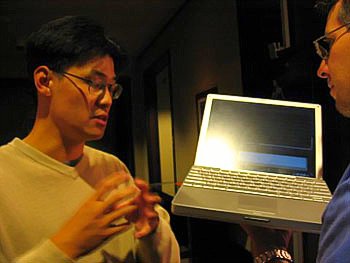 Eric Rice interviews Milton Chen for a podcast
But this is not a given. Many audio shows and interviews still keep spontaneity at bay by taking great care in the preparation, editing and packaging of the final product: questions are planned together and whatever doesn't fit the interests of the sponsors is elegantly edited out afterwards.
Only by designing audio conversations from the bottom-up one can really extract the humus of what people really feel and think about something. It is through sincere curiosity, open listening and a genuine desire to discover and learn that great conversations come about.
Through them, you can feel the extended version of what gets into the printed press. This is like a holographic version of the same content in which so many more facets can be discovered.

By listening to audio conversations, podcasts and the new "direct-to-tape" reportage interviews that online publishers are experimenting with these days, you can get so much more insight, while getting to know the character and attitude of other great individuals.

There is so much more than you can internalize, capture and learn that is not available by reading through an excellent essay.
I understand that the clarity and analytical rationality that can be achieved in a long and well written piece cannot be easily transferred to audio, but this is not what we should try to achieve.
Audio is the heart, the passionate communication channel through which in-depth exploration of a topic or a person can be achieved. By engaging individuals in one-to-one conversation and multi-party discussions one can uncover a rich fabric of complementary views, insights, feelings and ideas that would remain dormant or otherwise inaccessible if not only to a very restricted clique.
Audio conversations enable the appearance of the true "uncontrived voices" that companies and organizations online have not yet started to use. By uncontrived one means not "distorted" by, for example, the requirements and pressures of marketing, sales, finance.
So, this time I decided to knock on the Inbox of one of the foremost audio-casting pioneers. A true paladin of the communication revolution taking place on the Internet by way of people starting to talk again: Doug Kaye is the man, the brain and the ideas behind the surprisingly successful ITConversations.com.

Two thirds of Doug Kaye audio setup
Sitting behind a partly portable 20,000 $ audio recording rig, Doug Kaye has brought online the voices of nearly 300 individuals so far, which can all be accessed, completely free, on his site at ITConversations.com.
As he recounts in our exchange the challenges and obstacles encountered in paving this new communication channel have not been few. Starting with the bandwidth issue, as audio files, streamed or downloaded on the Internet may account for as much as 50 or more full Web pages for each 15 minute conversation (at a low quality level : say 22 Khz). So when you start having nearly 300 hundred recording of multiple megabytes each and several thousand visitors per day then your bandwidth consumption on the hosting provider server becomes a very serious issue. We are talking Terabytes (thousands of Gigabytes) of bandwidth per month, while here with a traditional text-based site like MasterNewMedia.org with some thousands articles available and a similar traffic level we are using about 70GB of bandwidth in a month.
That gives you an idea of the issue.
But given the appearance of the Internet Archive Open Source Audio opportunity, and the launch of similar and complementary initiatives like Prodigem, audio-casters will find it increasingly easy to store and serve their audio content from such copyright-free clearinghouses.
In his own effort to find ways that could have better supported the economic sustainability of its efforts, Doug Kaye set to out to listen to his own audience to find out which approaches he should have considered. So he publicly asked on his site what people thought were the appropriate ideas on how to monetize is independent publishing efforts.
He got lots of responses, and in his audio conversation with me he summarizes the key three approaches he has so far identified.
This is the only area where I didn't see as much synergy and leverage for what I think are the new ideas emerging online. It felt like a disjoint.
So, I made my suggestions to Doug as to what I think could be an extra alternative take on leveraging more user preference and personal initiative, while rewarding those who do so.
It's a win-win proposal, where not only Doug would be able to monetize his work, but where also any individual editor that would create new derivatives from the existing content (in a number of possible ways :: from advanced compilations to RSS feeds covering only selected topics/authors) as well as the whole audience by providing a self-sustainable content creation mechanism that creates premium content and prizes everyone involved.
And to honour the truth, Doug has already set in place some fascinating mechanism called Clips, that allows anyone to create a unique URL for any audio content section desired. Yes, you have understood it right. Doug Kaye's clips are URLs capable of referring to a specific portion of an audio interview and as such represent true individual content objects that can be re-used, spliced or joined for example into a unique RSS feed compilation.
Here is how the ending part of a clip URL looks like:
.com/clip.php?showid=84&start=13:50&stop=15:44
You can now understand why I think Doug is the undisputed pioneer of this new powerful communication revolution, based on online audio conversations. He has the ears, the brain skills and control of its technology from end-to-end.
He is a great example of the new emergent class of independent publishers and a truly valuable one to learn from.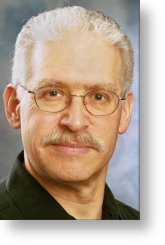 Doug Kaye, host, producer and founder of ITConversations.com
Here is my audio conversation with Doug Kaye of ITConversations.com.
Enjoy it.

1) .WMA file - download (4.7 MB)
hosted by the Internet Archive
2) .WMA interview via BitTorrent
hosted by Torrentocracy/Prodigem
My RSS Torrent feed (subscribe to it to receive any new audio content I will publish through the Prodigem content repository)

I proudly use Shareaza 2.0 for all my Windows-based P2P file-sharing needs :: this is a great free tool and I strongly invite you to try it out).