Tuesday, December 14, 2004
Online Communication And Collaboration: Teenagers Show The Future
Sponsored Links
For a glimpse into the future for online collaboration tools, whether in the office or in everyday life, one only has to look at how teenagers are using such tools as instant messaging (IM) and mobile phone based text messaging services (SMS) today.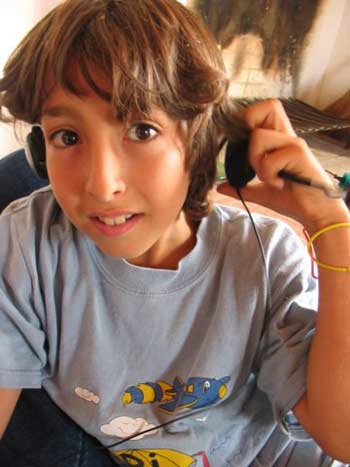 As today's teenagers grow up to become tomorrow's workers, we can expect to see the pervasiveness of the use online communication and collaboration tools transferred and reproduced from a predominantly social environment into the workplace.
This presents a vast forthcoming opportunity for vendors developing enterprise-based solutions, especially if they can replicate the ease-of-use and features and functionality of today's consumer orientated applications.

According to a survey performed earlier this year in the US by Jupiter Research, 71% of consumers between the age of 13 and 17 use instant-messaging programs on their computers.
A recent AOL study found that 90% of teens and young adults (those ages 20 to 22) use IM, as compared to 70% of 22-34 year-olds, 55% of 35-54 year-olds and 48% of those aged 55 and over.
This month, an article in Forbes.com entitled "Just Speechless", outlined what this demographic group looks like from an online communications perspective.
"The written word is alive and well with today's youngsters, even if it is fairly unrecognizable. Text-based tools rule in youth markets, whether they are PC-based instant messaging programs or the phone-based short message service. As a result, today's kids are more connected than ever--and service providers are raking in piles of dough a few pennies at a time.
"Our most popular service is text messaging," says Dave Garver, executive director of marketing for Cingular Wireless. "Teenagers engage in some really communications-intensive behavior."
It used to be that teens would dominate the family phone, tying up the line for hours talking to their friends. But today's kids grew up on the Internet and communicate just as readily with text as with voice. They're voracious consumers of communications, used to talking to friends at the drop of a hat, and instant-messaging tools are one of their favorite ways to keep in touch.
At home on a PC, the communications method of choice is instant-messaging programs, such as the free services offered by America Online, Microsoft and Yahoo!.
"We feel like IM is the communication medium of choice for the kid generation," says Frazier Miller, director of product management for Yahoo Messenger. Teens were the vanguard for instant messaging and now tend to be heavy users, keeping multiple windows open and conducting several simultaneous conversations with friends. "It's an incredibly fun way for them to maximize their time and to hang out online," he says.
The companies who provide these messaging services are more than happy to exploit kids' text habits. Vendors make the most of their money in the space from advertising displayed on the messaging program's interface. But premium services like custom wallpaper, decorative themes and online games are also taking off. By the end of 2004, total worldwide revenues in the IM market, which include enterprise and consumer segments, will be about $131 million, according to the Radicati Group. By 2008, that total should reach $413 million.
One premium feature that's already popular outside the U.S. is custom avatars, says Larry Grothaus, lead product manager for MSN. Each avatar is a computer-animated person who represents an individual user. Young consumers can buy special clothing and accessories for their avatar, spending more money on virtual outfits even as they spend less on fashion in the real world.
When they can't be near a PC, kids use their phones to trade text. According to the Yankee Group, more than half of all teens between the ages of 13 and 17 are active users of wireless text messaging, sending blurbs using the "SMS" short message service. And since cellular carriers often charge as much as 10 cents per SMS, these communications represent a huge and growing revenue stream. In 2004, revenues from SMS will total $1.5 billion in the U.S., according to research firm IDC. By the end of 2005, they'll surge to $2 billion.
As cellular networks get more advanced, more teens will be using the same IM programs on their phones as on their PCs. Only 29% of kids have phones capable of running those programs right now, according to the Yankee Group, but 11% of teens use them--nearly 40% of the potential user base.
In fact, kids are often the first consumers to try out advanced messaging services, so much so that they are increasingly responsible for teaching their parents about them and getting them to become users. "[Parents] want to stay in touch with the latest technology so they can stay in touch with their kids," says Meta Group analyst Ted Tzirimis. "Since their kids are all using IM for personal reasons, a lot of adults are using it during the day...they can tell them 'do your homework, do your laundry.'" As new services like voice and video messaging get added to the IM programs, it will likely be kids who help promote the emerging technologies.
Kids are such heavy users of messaging technologies that it is likely today's killer Internet app--e-mail--is about to get pushed aside. "As these kids get older, we're going to see IM really take over as the preferred method of communication over e-mail," says Yahoo's Miller. "E-mail is really seen as skewed towards older demographics. Kids will use e-mail to communicate with their parents, but it's seen as very stodgy."
This is where the future of online collaboration lies and those vendors who take the time to research and understand the online habits of the next generation of workers will be the ones to reap the rewards.


Reference: Forbes.com [ Read more ]