Monday, December 13, 2004
Local Search Gets Hot: Microsoft Releases The MSN Desktop Search Suite
Though I can confirm my opinion that Microsoft has no ability to support communications with the very technologies it creates and promotes, I am genuinely happy to showcase some interesting grassroots reporting work covering the latest announcement from Microsoft: The MSN Desktop Search.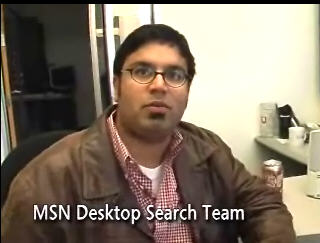 Microsoft has just announced the availability of its new MSN Desktop Search Suite which integrates toolbar features with a powerful local search facility.
In a number of hours the new MSN Desktop Search Toolbar can index all of your hard disk contents, from emails to PDFs and from Word documents to locally stored Web pages and allow you to find in a snap whatever bit of info your looking for.
But there is nothing better than hearing from those who created this new technology how good and truly unique this new search tool really is.
Here's in fact an exclusive interview I did a few days ago with David Dawson, Group Program Manager of MSN Desktop Search as well as two great video reports shot this past weekend by Robert Scoble and the Channel 9 team.
This is the type of direct reporting and journalism I like. No prepared questions, no marketing phrases. The real people talking about their work and their achievements in their genuine voices. There's a great deal to learn and find out, and I think Robert Scoble did an absolutely great report with this. Bravo!
Audio interview
Videos
Download the MSN Toolbar Suite with Desktop Search.
Please note - Re: Microsoft in RTC Stone Age
In an email I received 15 minutes before the private conference call reserved to the Search Champs team I was once again informed that I was a welcome participant in the private special announcement as long as I dialed myself into an international paid call from Italy to Washington State. Can you believe it?
Here it is as it came:
"Robin - Sorry for the belated reply...the International number is 1-84x-61x-68x9. Apologies if this is not toll free. The Teleconference will be replayed and available following the call at http://www.microsoft.com/presspass for the next few days."
This is the second time they do it.
What can I say? It seems that Microsoft has yet to get acquainted with dealing with international partners like me, without getting too fussy about it. How can you pretend that I dial an international call to listen to your release? Are you really serious?
Frankly, this is no less than disappointing as it shows that the head and tail of this company don't even know each other.
Microsoft also owns and has access to live communication technologies that facilitate real time group conferences and presentations. But they don't use it. Even my invitation to live up to the times and adopt one of the many cost-effective alternatives (at my expense) fell on deaf ears.
Amazing.

I'm sorry that happened. Let me know next time and I'll call you in personally.
---
posted by Robin Good on Monday, December 13 2004, updated on Tuesday, May 5 2015