Monday, December 13, 2004
A CMS For The Web-Enabled Organization: Marqui CMS Review - Part I Requirements
Sponsored Links
I have started exploring the Marqui CMS and have gotten some initial first impressions. As I have more than ten articles planned for the coverage for this paid assignment from Marqui, I have indeed all of the time, resources and space to do a thorough, in-depth analysis of this tool.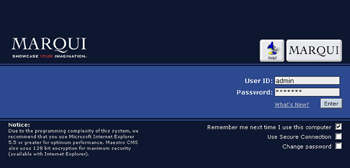 The Marqui CMS login screen
My initial takes will positively be from the viewpoint of the Web-enabled organization. The one, that having become awareness of the strategic relevance of the Web has decided to gradually move its large repository of content to an intelligent, well-organized, and highly accessible content management system (CMS).
The core of most CMS solutions is a central repository, supported by a range of tools for manipulating and managing the content and organizations like the ones above want many things from a CMS. Generally, what tops their list is a solid list of key requirements that includes the following:

Content Management Requirements
Usability
The system must be intuitive, easy to use. Most key functions should be easily identifiable by the novice user. The system should not require the study of extensive documentation to understand how to perform basic operations like: creating new content, creating new categories for content, adding images and links, adding new contributors and external authors, validating content awaiting approval for final publication, etc.
Version control & archiving
The ability to do version control of articles, reviews, news and reports is an essential need for any type of organization that has a minimum of editorial staff and external contributors working on content production. Strict version control is also necessary for legal accountability, and for backup and disaster recovery.
Workflow
If there are multiple and distributed editors, a need for supporting decentralized content creation the CMS must provide an easy-to-use workflow publishing model that can be easily customized, and is not easily affected by organizational changes.
Security
Standard security controls, access rights and audit trails are basic requirements to protect the integrity of the content.
Integration with external systems
Most organizations need to integrated the CMS with other information systems already in use within the organization. An enterprise-wide CMS can be successful only if it can be seamlessly integrated with existing legacy systems. In general, it is advised that the mechanisms for achieving this integration must be fully documented, and based on "open" or "industry" standards.
Reporting
The CMS must be capable of generating complete and comprehensive reports for all types of activities carried out and outputs generated. The support for customized reporting is also very desirable.
Publishing requirements
The publishing engine takes the content stored in the repository, and generates the final pages. While this may be a dynamic or batch process, the same basic requirements apply.
Style sheets
The final appearance of all the outputs generated with the CMS must be fully controllable through the use of standard style sheets. This provides flexibility and expandability.
Page templates
The overall page layouts are to be specified via page templates. The simpler and non-technical the interface to execute this task, the better.
Extensibility
The CMS should provide enough flexibility and easy-of-use as to make it extremely simple to integrate code "snippets" to provide additional publishing functionalities. The capacity of the CMS to provide end uses with tools to self-improve and optimize their own interface is also highly desirable.
Support for multiple formats
The CMS must be able to generate output into multiple formats such as HTML (Web), PDF, RSS, XML, text, and more. It should be a prerogative of the system to allow further extensibility of such output functionality. Content must be completely separated from design. Authors need to be confronted only with a content management interface and not with choices relating to the look and feel of their pages. The look and feel must be managed entirely through the use of page templates and style sheets.
Personalization
The CMS should provide the ability to customize the type of information presented to different types of users based on user profiles, roles and access rights or even based on specific metadata in the source content.
Usage statistics
Any useful CMS must integrate a full traffic monitoring and log analysis facility covering number of visitors, content viewed, access duration, navigation paths through the site, content categories viewed and a lot more. Tracking should be as much as possible in real-time. The benefit of accessing this data affects multiple key aspects of the online publishing process including usability evaluation, search engine optimization, accessibility, editorial and marketing strategy, audience analysis and more.
Accessibility requirements
Pages generated by the content management system must meet certain design, accessibility, usability, identity and design standards if they are to provide value to your users and profitability to your organization. It is therefore critical that the CMS supports, facilitates and streamlines the integration of such presentation design guidelines while guaranteeing accessibility and browser compatibility out-of-the-box.
Accessibility
The content generated by the CMS should be able to conform to one or more accessibility standards such as the W3C Web Accessibility Initiative (WAI).
Cross browser support
Web pages generated by the CMS must be automatically viewable across all major browsers including Internet Explorer, Mozilla/Firefox, Netscape, Safari and Opera.
Support for client-side functionality
The CMS should be able to support client-side technologies like Java, JavaScript, Flash as they may be needed.
Speed
CMS must be able to provide checks and controls that can guarantee maximum page size thresholds and automatic adjustments for where this happens. The CMS may also provide features that provides multiple versions of the a Web site optimized for either dial-up users and high-speed Internet connections.
Valid HTML
The CMS must automatically generate clean HTML adhering to the official specifications. This ensures maximum compatibility across browsers and platforms.
Effective navigation
Users must be provided with consistent, comprehensive and usable navigation aids.
Metadata
All pages must provide sufficient metadata to allow effective indexing and searching. This should conform to a standard such as Dublin Core.
Support for multiple languages
If the CMS is to be used by editors working from different parts of the world and in different languages the CMS must easily support localization if not direct multiple language support right out of the box.
Business requirements
Project management and business requirements must also be satisfied in a CMS project.
Training
The vendor must list the training materials that exist for the CMS, and the training services that they can provide.
Documentation
The CMS must be supported by adequate documentation: for users, administrators and developers.
Warranty
The vendor must clearly specify the warranty period provided and the specific situations where the warranty may not apply.
Maintenance agreements
The CMS vendor should be able to provide alternative maintenance and support service options guaranteeing the client organization as much flexibility as possible in selecting the support and upgrade formula best fitting its needs.
Resources required
The CMS vendor must specify any pre-existing hardware or software that the CMS must interface with, or run on. This includes specific operating systems, databases, web servers and hardware requirements.
Skills required
The CMS vendor should clearly specify what are the skills and competences required to customize and maintain its system.
Scalability
The load levels that the CMS supports, and the additional resources (hardware & software) required for increased usage.
Reference sites
The CMS vendor must supply a portfolio of successful implementations where the CMS software has been effectively implemented. Ideally, these sites should closely match the characteristics and communication goals of your own organization.
How does Marqui fare across all of the above?
This is what I am set out to find out this week. I can now take the Marqui system for a deeper spin before writing my initial impressions.
By having defined a clear set of requirements I can now better approach my review of this CMS by verifying how close and successful Marqui has been in meeting (or surpassing) all of the above.
There are indeed a very large number of organizations around the world that are presently searching for their ideal CMS solution, as they move from static Web sites to fully dynamic ones while integrating cost-effective CMS systems and professional news publishing workflows.
Stay tuned.