Saturday, December 11, 2004
Find Out The Most Popular Keywords And Keyphrases: Google Suggest
As you type into the search box, Google Suggest guesses what you're typing and offers suggestions in real time.

This is similar to Google's "Did you mean?" feature that offers alternative spellings for your query after you search, except that this new feature now works in real time. By suggesting more refined searches up front, Google Suggest can make your searches more convenient and efficient by keeping you from having to reformulate your queries.
But if you look a bit beyond the official promoted use and obvious usefulness, you can find a new powerful tool to identify which keywords and keyphrases are most popular (at this time) on Google. Something every search engine marketing specialist has long been dreaming of.

According to Google Suggest' own FAQ in fact, "Google's algorithms use a wide range of information to predict the queries users are most likely to want to see."
For example, Google Suggest uses data about the overall popularity of various searches to help rank the refinements it offers. Google Zeitgeist is a good example of this type of popularity information and Google Suggest does use information about the relative popularity of common searches to rank its suggestions.
This allows to gauge more rapidly, easily and cost-effectively which are keywords and keyphrases that may be utilized not only in alternative to bad queries, but as actual Web page titles or content headlines to optimize one's own ability to better rank, show-up and be visible through major search engines.
What is more popular: "web conference software" or "web conferencing software"?
If I hadn't Google Suggest at my disposal I wouldn't be able to know which one of the two was more popular on Google searches. Not only Google Suggest let's me know in a blink but it nalso tells me with Google precision how many searches were performed for each. (Though Google doesn't disclose the time range reference for the total search numbers displayed next to each suggestion, what is relevant for online marketers and search engine marketing specialists is to gauge the relative difference between possible alternatives).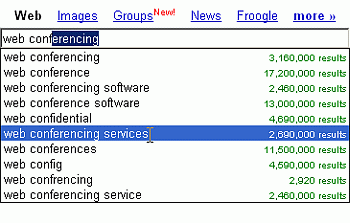 Here is another example of Google Suggest at work when prompted for "online collaboration".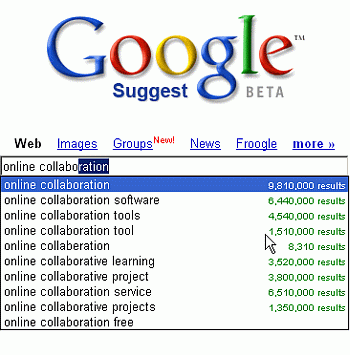 While not immediately evident Google Suggest does need to talk to Google "home" while you type in order to offer suggestions to you. And everything you type is controlled by Google's privacy policy. Nonetheless this, Google Suggest does not base its suggestions on your personal searches. nor your past search history.
Recent versions of all major browsers including IE, Netscape, Mozilla, Safari and Opera support Google Suggest. To enjoy this new Google service to its fullest you will also need to have both JavaScript and cookies enabled.
For now, Google Suggest works only in English though it is likely, that if the service fares well with users Google will expand it to work over other languages too.

It works for Bulgarian language too. Maybe it isn't official but it makes suggestions which are even useful.
---
"Not only Google Suggest let's me know in a blink but it also tells me with Google precision how many searches were performed for each."

No it doesn't. Results is the number of results it can find not sumber of searches done.
---
Works good for me, thanks for the info...
---
You wrote:

For now, Google Suggest works only in English.

Although 95% is English only, there are also Dutch words included. Check http://www.zoekzone.com/googlesuggestie.htm
---
posted by Robin Good on Saturday, December 11 2004, updated on Tuesday, May 5 2015