Friday, December 10, 2004
From PowerPoint To Rich-Media Showcase: Articulate Presenter Does It
Sponsored Links
If you have been looking for a tool that can enable the creation of effective rich-media presentations, while providing a smooth and satisfying user experience I strongly suggest you give a good look at Articulate Presenter.
Articulate Presenter is a powerful PowerPoint to Flash conversion tool that integrates the ability to add voice narration, playback controls and several other extra features to your existing presentation.
PowerPoint presenters know very well how difficult it is to easily distribute a presentation to users via email, the Web or even on CD-ROM. Though there have been dedicated tools and third-party add-ons that have taken care of these needs for PowerPoint users, none provided in one integrated package the ability to convert reliably any PowerPoint file to Flash while adding to it such an array of delivery and distribution options.
But do not listen to my words. In this case, there is nothing better than seeing the real thing. Download now the free and fully functional version of Articulate Presenter and try it out for yourself.
Take a PowerPoint presentation and see how difficult it is to add voice narration and prepare a Web delivery package that makes your work look 100 times more professional than the typical online PowerPoint tools can (unfortunately most online presenters and tools still utilize old-fashioned approach to post Presentations on the Web: they convert all PowerPoint slides to JPG or GIF files, with low-quality results in terms of file size (excessive), photographic quality and text definition.
By converting PowerPoint to Flash you have a great number of advantages which greatly facilitate your ability to distribute and deliver effectively your communications via the Internet.
No matter what your final goal is, a Flash-based presentation goes a long way in making your content become easily accessible, ubiquitous and easily distributable.
1) Greater Accessibility
Once converted to Flash a PowerPoint presentation can be easily viewed in any Internet browser. Internet Explorer, Mozilla, Netscape, Safari, Opera, and more. As more than 98% of all browsers have already installed the Flash plug-in, you will not be required to install any special software.
2) Compatibility
In Flash your PowerPoint presentation can be watched by everyone having a computer, not just by people on PCs. Macs, Linux, Solaris, HP, SGI workstations, PDAs (, Pocket PCs)
and handheld PCs (with an integrated Flash player) can now all watch your PowerPoint presentation.
3) Reduced Files Size
Flash conversion can reduce drastically the size of a PowerPoint presentation up to 1/10th of the original file size.
4) Sound Integration
Flash files can also integrate audio tracks, including music and voice-overs.
5) Display Resolution
Flash files can be played at virtually any resolution and/or screen size, making this file format the ideal vehicle to distribute presentations across a large number of diversified display devices.
6) Internet Distribution
Distributing PowerPoint files on the Internet for other people to see, is easier said than done. Not everyone has PowerPoint installed on his PC. But once you upload a Flash file to any server, forum, discussion group, anyone can watch it.
7) Streaming
Flash files use streaming technology, which enables online viewers to start viewing the presentation without needing to wait for the entire presentation to download to their computers before playback can start.
8) Basic Interaction Controls
Flash files contain optional embedded controls that allow the end user to control the playback, stop and rewinding of the presentation you create.
9) More Distribution Options
Flash, for the many of the reasons listed above is also an ideal format for distributing PowerPoint presentations on CD-ROMs. It allows multi-platform compatibility while providing a lean and performing file, that can integrate audio and video and can be displayed on all kinds of different displays and resolutions.
10) Email-Ready
Even if you want to send a PowerPoint file to someone else by email, converting it to Flash maybe a better option. The file will be much smaller, and it will not clog your partner's inbox. Plus you will be able to retain all of your transitions, animations and effects, while being sure that your recipient will be able to see the file without having to load other software (e.g.: PowerPoint Viewer 2.7 MB).
11) Secure
PowerPoint files are editable by anyone else who has PowerPoint installed on their machine. Not so for Flash files which allow you to maintain a higher degree of control on your content if you wish to.
12) Firewall Friendliness
Flash-based content has no problem going through firewalls as it behaves just like standard Web content.
What I really like about Articulate is their attention to the look and feel. You can see this at every corner when you explore their tool. Attention to details, well designed input screens, easy-to use dialog boxes, smooth and elegant screens. I am not exaggerating but this is a tool I really enjoy working with.
One great example of this is the publishing options inside Articulate Presenter which allow you to fully customize the interface of your final presentation by giving you the ability to automatically add your photo, links to your bio and email, display of the presentation agenda, attachments, slide notes and a lot more.

Click to enlarge
You can even customize each and every label on the presentation screen!

Click to enlarge
And since I am such an advocate of usable interface design, great tools and small companies that create cool products I have reached out to contact Gabe Anderson, Articulate official Director of Customer Support who runs Word of Mouth, the company official blog.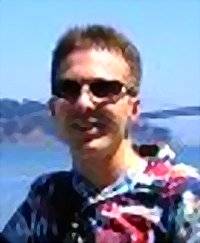 Gabe Anderson
Articulate Director of Customer Support
So, I sent an email to Gabe saying that I wanted to have an online conversation with him to hear and find out more about the company and its product. After he agreed to the online interview, I invited him to a private Web conferencing room and I recorded with him this 21' conversation.
Here is the full unedited recording of our exchange a few hours ago (all online):
.WMA (Windows Media) recording - 2.3 MB
64Kbps MP3 ZIP (10.1 MB)
MP3 VBR ZIP (5 MB)
Ogg Vorbis (14.9 MB)
(Thanks to the Internet Archive and the Creative Commons Publisher)
Articulate version of the recording - check it out!