Thursday, December 9, 2004
The World-Wide Video Conferencing Event: The MegaConference Is On
In less than thirty minutes over 370 videoconferencing endpoints will be connecting together for the largest online video-based event of the year: The MegaConference.
The event brings together researchers, academicians, educators and technology experts from around the world while utilizing different videoconferencing technologies.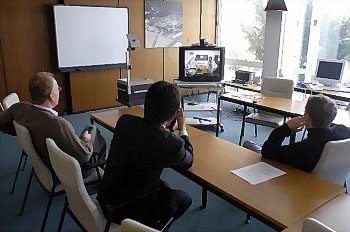 Having reached its 6th edition, this is the largest live Internet videoconferencing event taking place.
Making use of some of the best technologies available, including the Internet2 backbone, the MegaConference is an event about people and the human side of connecting together rather than exclusively about the technologies and tools that make this possible.
The MegaConference it is also a showcase of interoperability between H.323-compliant technologies utilizing this common international standards.
On top of traditional videoconferencing technologies provided by industry giants Radvision, Polycom, Tandberg and others, also this year soft-based videoconferencing endpoints are joining into the live event. While Microsoft NetMeeting is not supported anymore, a number of participating endpoints will be joining into the live MegaConference utilizing WaveThree Session technology (PC and Mac compatible), which supports the SIP interoperability protocol, along with a wide set of video (Wavelet, H.261, H.263) and audio codecs.
During the MegaConference official Roll Calls taking place at different times during the day, individual participants and groups will showcase unique 1-minute self-presentations utilizing many different approaches.
Coordinated by Bob Dixon at Ohio State University, the MegaConference is accessible as a streaming video to anyone who wants to have a peek at this one-day long online event.
No matter on what kind of computer you operate you can access the live videostream with Quicktime, Real Player and Windows Media Player too.
The MegaConference starts at 8am NY time, 1pm London today. No registration is required to attend.
To find out detailed information and all access points to the conference head off to Kolabora.
posted by Robin Good on Thursday, December 9 2004, updated on Tuesday, May 5 2015