Double-U-Eye-Kay-Eye WIKI Radio: Who's Calling?
This wiki radio thing has been playing on my PC for over two weeks now and anytime I open up my multi-tabbed Avant Browser bringing me back to the last 36 Web pages I am working on, I can hear the rock guitar intro of the WIKI Radio blast through my speakers.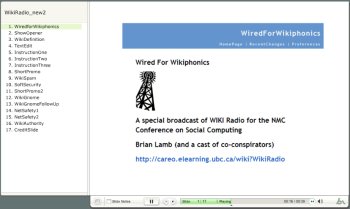 If you have ever been curious to find out more about wikis and their uses in education, you can really learn quite a few things by listening and watching this absolutely phenomenal fake radio show created by Brian Lamb and its great clique of professional friends (Alan Levine, D'Arcy Norman, Jeff Miller, Kele Fleming, Michelle Chua, Keira McPhee, Novak Rogic).
Brian Lamb has set up such an enjoyable show that I really invite more of you to use this, nonetheless how alien it will initially feel to you, as a model for truly delivering information in an enjoyable, comprehensive, digestible and VERY accessible format.
This is what learning is all about.
If instructional designers and e-learning maestros would move away from converting PowerPoint presentations into Flash or converting traditional books into PDF guides while calling all this e-learning, you and I, as passionate students, would gain a lot.
In this Wiki Radio show Brian Lamb and his guests go through some of the most important issues that relate to wikis inside the academic environment:



use and application


credibility


challenges in use


taking risks


access and control


spam


soft-security


safety
I strongly encourage you to spend some time looking and listening at this creative performance. In my humble opinion it is so good, that like good music, you really need to play it a few times to appreciate fully the true of all of the communication layers embedded into it.
And let's make one a non-obvious point very clear:
Delivered and distributed through the excellent Macromedia Breeze Web platform, this audio-enabled Web presentation is the full product of:



Brian Lamb's creative genius


good recording/editing software


a good library of music, sound clips and audio effects


good design skills


a graphic presentation tool


a good set ideas to start with


writing and titling abilities


a well outlined plan


lots of brainstorming
and NOT of Macromedia Breeze.
The effective delivery and distribution results can be obtained with much more affordable tools like Articulate Presenter, Macromedia Captivate or TechSmith Camtasia.
Macromedia Breeze outstanding merit goes to the excellent user experience it provides in distributing/publishing this type of content online while making it accessible to all typologies of users, on different computer and operating systems and without requiring any software installation.
(It would be wonderful if Breeze allowed in-depth linking into anyone of the recorded slides).
If you don't have the bandwidth or time to find out more about wikis here is some basic starting points:
A wiki is:
"an online space where community members (anyone - gasp) can edit pages, add pages, add links, thereby creating a kind of rhyzomatic set of "pages" all connected by linked keywords. Think, Raymond Williams + opensource web design online and in realtime." - Mary Bryson
A Wiki is a piece of server software that allows users to freely create and edit Web page content using any Web browser. Wiki supports hyperlinks and has a simple text syntax for creating new pages and cross-links between internal pages on the fly.
Wiki is unusual among group communication mechanisms in that it allows the organization of contributions to be edited in addition to the content itself.
Like many simple concepts, "open editing" has some profound and subtle effects on Wiki usage. Allowing everyday users to create and edit any page in a Web site is exciting in that it encourages democratic use of the Web and promotes content composition by non-technical users.
Some distinguishing features (none of them are absolute requirements):
Anyone can change anything. Wikis are quick because the processes of reading and editing are combined. The signature of a wiki is a link at the bottom of the page reading "Edit text of this page" or something similar. Clicking that link produces the page's hypertext markup, allowing instant revisions.
Authoring software, permissions, or passwords are typically not required.
Wikis use simplified hypertext markup. Wikis have their own markup language that essentially strips HTML down to its simplest elements.
New users need to learn a few formatting tags, but only a few. Most wiki tags significantly streamline and simplify their tasks.
Linking to related pages is easy, which promotes promiscuous interlinking among wiki pages.
Content is ego-less, time-less, and never finished.
Anonymity is not required but is common. With open editing, a page can have multiple contributors, and notions of page "authorship" and "ownership" can be radically altered.
Content "cloning" across wikis--sometimes referred to in non-wiki circles as "plagiarism"--is often acceptable.
Source: What Is Wiki
posted by Robin Good on Friday, December 3 2004, updated on Tuesday, May 5 2015