Wednesday, December 1, 2004
Research, Organize And Publish Bookmarks And RSS Feeds: wURLdBook, Personal Intelligence
Here in Sharewood I am notoriously pretty suspicious when it comes to press releases. Rather than trusting the typical media hype, I personally take the time to test and explore new tools until I genuinely feel I have a good feel for their strengths and weaknesses.
So when I read the press release for the free, web-based information research tool wURLdBook Research, I knew I was going to have to dig in deep to weed the hype from the truth.
But the promise and feature list announced in the press release was just too good for not giving it a deeper look. RSS technology and in particular any new technology to create personalized news feeds, is of major interest to everyone involved in the sweeping new media revolution taking place.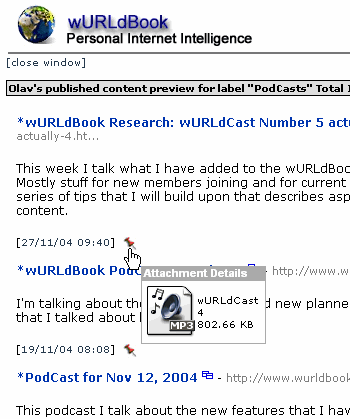 wURLdBook's Research Blurb
Quoting from wURLdBook Research press release:
wURLdBook lets you create and manage all of your RSS feeds in one place. Organize your feeds into categories or create compositie feeds using labels.
and
Distribution of documents such as PDF, MS Word or multimedia files via attachments/enclosures.
There are quite a few other tools on the market that help you aggregate and classify online information, including clippings, topics, tags, categories and ratings. In this respect wURLdBook Research is not new. Although properly organizing one's web references is essential for any Internet researcher - wURLdBook Research lets you organize them into hierarchical collections, called dossiers - the interesting part lies in what you do with those collections once they have reached a certain magnitude. Actually, once you are making your own web reference collections available for future access, the whole life cycle of retrieving, sorting and organizing information may start all over again. After all, the obvious #1 reason you are putting in all this effort to store your web references is that you will want to be able to find things back. Olav Anderson, the developer behind wURLdBook, has solved this concern by implementing an advanced (full boolean) search feature that allows you to find content stored in web references and RSS feeds.
Integrating Existing Feeds With Web References
In wURLdBook Research you may store live RSS feeds from external news sources and bloggers' feeds into dossiers. You then supplement these with the web references resulting from your own research. So basically wURLdBook Research integrates existing RSS feeds with relevant information collected by the researcher (you).
Organizing Bunches Of Web References Into Personalized Feeds
Then, on the next level, the dossiers that you create may not only be published as singleton RSS feeds, but they may also be combined with other feeds inside your collection. This process is generally referred to as feed splicing. Feeds may be combined manually or by using labels, a feature that allows you to group feeds across several topic oriented dossiers, for example by priority or project. This feature is not common among existing web based information aggregators (yet). Even less widespread is the option to complement each web reference with an attachment that automatically is transformed into what in RSS-speak is referred to as a feed enclosure. Simply put an enclosure is to a feed what an attachment is to an e-mail message. An enclosure may be, for example, a document (MS Word, PDF), an image, a presentation (PowerPoint, Flash) or a recording (audio or video) that is encapsulated inside an RSS feed. When you distribute your RSS feed, you also distribute the enclosed attachments with each of the items in the feeds. According to the specifications for RSS 2.0, each item in a feed is allowed to have just one enclosure.
My Personal Experience with wURLdBook Research
wURLdBook Research has a lot of excellent and smart features, many more than I could possibly mention here. There's a downside to this if you're like me and want to take a headstart without properly reading the documentation. There's no doubt that wURLdBook Research is developed from the perspective of an information researcher. In fact, it is clear from the developer's blog that new features are being added almost weekly. If I may submit one from my wishlist: I'd like to have the option to add a thumbnail next to each web reference.
In my humble opinion it is only the user interface of wURLdBook Research that deserves some more attention.
While testing the application I sometimes got lost and needed a helping hand where to go next. Clear and simply phrased how-to pointers targeted at beginning users, positioned in a fixed location in each of the screens could probably make a lot of difference, complementary to the available Help, FAQ and Guided Tour pages.
Quick Facts About wURLdBook Research

Web based information aggregator, developed in Java


Freeware


Public beta


Sign up at the registration page
posted by Marjolein Hoekstra on Wednesday, December 1 2004, updated on Tuesday, May 5 2015