Tuesday, November 30, 2004
Synchronized Browsing: Kolabora Reports
What are 'Web Touring and Co-browsing' and why are they so important to a real-time conferencing or collaboration system?
Can you sell screen-sharing for Co-browsing, Web-Touring?
Is it the same thing?
What are the true advantages of Co-browsing over other solutions?
If you have been following my work on the web conferencing and collaboration fronts, you probably remember having read about my "dream system".
The "Dream System" was a major report, counting over three hundred pages, that I had been preparing during 2003 for publication online.
Though I kept announcing its upcoming release the report never became available on my web site.
What happened?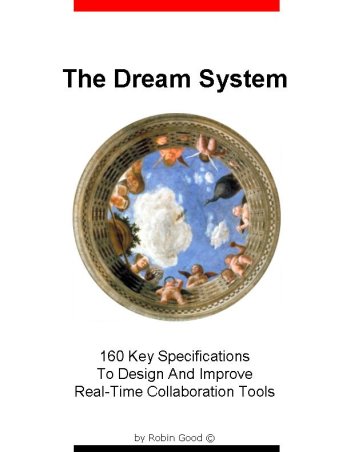 In November 2003 one US conferencing company bought the exclusive rights to it for six months, and with it its right to read ahead of everyone else what I thought were the key needed features and functions needed in an ideal real-time conferencing/collaboration technology.
In the report, I had in fact collected not only well illustrated examples of all features and facilities one could ever imagine having in a top conferencing tool, but I also ventured into defining and describing in details over 100 new features and facilities presently missing from all of the systems that I have tested.
I am not patenting these ideas (yet) and I am rather inclined to promote and share their effective implementation by many, instead of having someone else by the rights to it for its own success only.
I have therefore decided, with the help of Francis Good who is now coordinating this project, to release new and updated chapters to the original "Dream System" reference report with a whole collection of dedicated, vertical, highly focused reports covering each one of the facilities I had originally included.
This excerpt from the first full Insider Report analyzes in detail the major features of an 'ideal' Web Touring and Co-browsing facility, the key benefits for users, and vendor best practices in implementation.
Here is a good excerpt from what you will be able to read inside of it.

posted by Robin Good on Tuesday, November 30 2004, updated on Tuesday, May 5 2015