Saturday, November 20, 2004
Global Learn Day: GLD8 Educational Technologists Talk Online
The grassroots online audio-based conference showcasing live, educational technologists, futurists, and pedagogical e-learning evangelists from all around the world is about to start today for a 24-hour non-stop show: This is Global Learn Day, and it starts today.
Organized by the Benjamin Franklin Institute, this event brings together tens of educational presenters and hundreds of participants from around the world.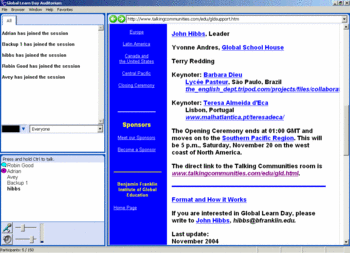 The real-time conferencing technology utilized for this event allows for presenters to talk live through a mix of traditional telephone connections and a fully VoIP-based solution that allows any of the attendees to take the mike and ask live questions during the event. Each presenter provides a web-based profile that includes information about their topic, images URLS, and web-based slideshows. The audience listens via the Internet (PC Windows only) and can submit questions to the panelist via chat/email or audio.

Global Learn Day is an initiative to support the promotion of distance education and technology in the conviction that such undertakings will accelerate learning achievement through:
a) affordable application of new tools and
b) innovative pedagogic practices.
Global Learn Day is now in it's eighth year...a round the world "voyage" that showcases extraordinary people doing exceptional work in all 24 time zones.
The live Internet event starts in the South Pacific - where the planet begins the new day - and then travels west with "stops" in several dozen locations to learn what others are doing to advance learning in their part of the globe.
Dr. Arun Mehta from New Delhi, India, who has a burning ambition to speed that day in time when there is affordable connectivity to every home in South Asia leads the South Asian region presentation. He will speak live from New Delhi starting at 5 pm (GMT).
Stephen Downes from Canada delivers a Welcome keynote to the Americas Keynote, while speaking live from Vancouver, British Columbia.
Other regions and topics to be touched during the live conference can be found here.
Both the web portion and audio portion of the presentations are archived for future playback by anyone with a web browser.
posted by Robin Good on Saturday, November 20 2004, updated on Tuesday, May 5 2015