Wednesday, November 17, 2004
Global Grassroots Content Clearinghouse: Ourmedia
Sponsored Links
A free public archive for everyone to upload and share their personal content, be it text, audio, music or video, is about to become reality. Its goal is the one to enable producers of grassroots media to store and share their work with the world.
Without needing to pay for bandwidth, hosting or anything else.
Too good to be true? Read on.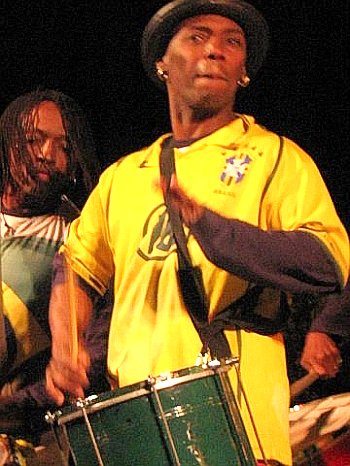 Under the Ourmedia flag a small group of brave and visionary independent thinkers, technologists and change agents has gotten together to create what will very soon be the largest public open access archive for all grassroots creative multimedia content.
This is very, very major news and it should be welcome with the best fanfare possible.
Not only we are deeply in need of such a free content sharing infrastructure, which must be tightly connected with the licensing options offered by the Creative Commons, the Public Domain and the traditional Copyright licensing scheme, but we have been missing the understanding of how much creative potential this Ourmedia creature may in turn unleash.
Ourmedia wants users to be able to create photo albums and digital jukeboxes by tapping into the content in ourmedia's databases.
For instance, a blogger who writes about film criticism might set up an area of his blog that lets users call up amateur or independent films culled from Ourmedia multimedia library.
The idea, in short, is to create the world's largest collection of home-brew media -- video, audio, photos, anything a creator wants to share with a global audience -- which people can generally freely share with each other.
Yes, you have understood it right, in essence, Ourmedia is set to become the world's largest repository of grassroots media that has ever been available to humanity.
Ourmedia (formerly Open Media) is officially an open-source initiative undertaken for three purposes:



to create a global library for grassroots media of all kinds;
to foster and promulgate open standards (APIs, schemas and user interfaces)
to bring personal media to the desktop.
And here is more interesting stuff:
For software developers, Ourmedia offers such exciting features as:

DNS registration of all CC content
Simple upload APIs
Jukeboxes and Photo Albums with built-in Content
Shared Jukeboxes & Shared Galleries
Standardized schemas and APIs for shared server services
Available as 'Personal Media Server' - hosted or downloadable
Multiple Directory viewpoints: words, images, net maps - sorted in various ways: alpha, category, by library location, by author, by time, by keywords (support multiple ontologies)
Retraction or changing of license. (Page details issues)
Provenance (history of who has changed it)
Creator Authentication
Here is an edited excerpt of the official Ourmedia FAQ. Through it you can get immediately a very good idea of what is required, expected and offered through this truly revolutionary opportunity.
What's the big idea here?
The idea is pretty simple: People who create video, music, photos, audio clips and other personal media can store their stuff for free on ourmedia's servers forever, as long as they're willing to share their works with a global audience.
Backed by the Internet Archive, ourmedia's goal is to expose, advance and preserve digital creativity at the grassroots level. The site will serve as a central gathering spot where professionals and amateurs come together to share works, offer tips and tutorials, and interact in a combination community space and virtual library that will preserve these works for future generations.
Ourmedia wants to enable people anywhere in the world to tap into this rich repository of media and create image albums, movie and music jukeboxes and more.


Who is behind ourmedia?
Members of the creative community, technologists, educators, librarians and others interested in spreading digital culture are backing the ourmedia project. Leading the effort are Marc Canter, a well-known technologist and open standards evangelist who co-founded the company that became software giant Macromedia, and J.D. Lasica, a veteran journalist, editor with the Online Journalism Review, and evangelist for participatory media.


What kinds of media will be part of ourmedia?
All kinds. The ourmedia site will consist of video (digital stories, music videos, video blogs, home-made documentaries, underground films, grassroots political ads, animation, machinima), audio (interviews with authors, oral family histories, readings of properly licensed book chapters), original music, photographs, ebooks, games and more. You decide what goes up on the site.


A digital repository sounds expensive. Who's paying the tab?
Drupal, an open-source content management platform, has agreed to host the site for free. Other sites will also participate in this open registry, storing material on their servers. And the Internet Archive has agreed to provide free storage space and free bandwidth -- forever.


Did you say forever?
The Internet Archive has been archiving nearly everything on the open Web since 1996. The Archive maintains its own site, but nearly all of ourmedia's user-generated media will be stored on the Internet Archive's ultra-large servers (racks of peta-boxes, actually). The archive's founder, Brewster Kahle, has pledged to preserve these materials for generations to come.
Whoa! That means my grandkids could see the stuff I'm uploading today.
That's right. So keep that in mind.


What does it cost?
It's free. Actually, it's better than free -- it will save you bandwidth and storage fees.
Rather than relying on a paid staff that serves as gatekeepers, we're building a do-it-yourself mechanism that lets users anywhere in the world upload material, view or share media (depending on the license), rank their favorite works, and offer commentary and tutorials. All for free. A community of volunteers will monitor problems or complaints.


Do you own what I upload to ourmedia, as TextAmerica does?
No. You own it. Anyone who uploads anything will be required to fill out a short licensing form. The default option is to select a Creative Commons license, which clearly delineates how others may use your work. (Most often, people choose to allow the work to be freely shared and viewed by others, as long as the content creator is credited and the work isn't used commercially. Other licenses allow remixing and building upon the work or commercial licensing. See our Licensing page for details.) A second option is to retain full copyright, although we don't recommend this course; after all, your placing your work on the open Web suggests that you don't mind if people view and share it. A third option is to donate the work to the public domain; at that point, the public owns it.


Can I upload private content? Can I store my photos or video footage on ourmedia without making it available to others?
No. This is a public website whose mission is to share, promote and preserve creative works -- there are no private areas on ourmedia. Think of it as a grassroots-driven virtual library. If you're looking for a storage space for your private photos or video, then ourmedia is not for you.


Why should I contribute material to ourmedia?
For several reasons. First, if you have hundreds or thousands of photos, you'll know where your stuff is. If your computer gets infected by a virus, all your media files could be wiped out in an instant; you can store them on ourmedia for safekeeping. Or, you may live in a place where it's more convenient to store media in a permanent central repository accessible from anywhere. Also, showcasing some or all of your works here will generate a good deal of exposure. Finally, you'll rack up good-karma points. By sharing works and trading insights about best practices, ourmedia members will help advance the craft of digital creativity.


Can I make money doing this?
It's possible, but don't count on it. Participation is its own reward. You're free to create compilation DVDs or CDs with other artists and even sell them on ourmedia, as long as the works remain publicly available. There's also the chance that a media or tech company may want to license your work, individually or as part of a package. When you upload your material, you will be given the option to publish your contact information, in which case the interested party can negotiate a fee with you. We're working on a voluntary blanket license that users can choose to allow commercial use of a work in return for compensation, either negotiated or determined in advance. If that happens, transparency will be the rule.
Using ourmedia as a way to commercially promote or sell your own works is permitted.
For instance, a film producer could put up a movie trailer and link to a DVD for sale. A photographer could show off medium-resolution jpegs of an image series on the site and direct prospective buyers to her business site to purchase high-resolution TIFF images that can be used in a print publication.


I want to remix music or video that I find on ourmedia. Can I?
Yes, if it's in the public domain or under a Creative Commons license that allows sampling or remixing. In the near future we hope to have a search function enabled that allows you to call up material that's available for remixing.


For video and audio, do you allow downloads or streaming or both?
We allow both, although the vast majority of media files on ourmedia will be downloadable rather than streamed, and we strongly recommend progressive downloads for videos. We'll soon have a Best Practices page with more details.


What kinds of file formats do you support?
In general, we prefer that you upload uncompressed multimedia files. That means .wav files for sound and MPEG for video. The higher the quality of the source material, the more ways in which we can offer it to end users. Our automatic conversion engine will allow us to offer compressed files (such as a song track in MP3 file or a video in Quicktime). But we will accept all formats: Real, Windows Media, DivX and open-source video standards. More information to come soon on our Best Practices page.


Do you permit digital rights management?
We discourage use of DRM because it often inhibits fair use and will likely interfere with the push-button interoperability we're seeking, but ultimately it's up to the content owner. If you use DRM, you must disclose that on any media page that contains DRM. We expect ourmedia will be at least 99% DRM-free.


I use video in my lecture series. Can I store them on ourmedia for academic purposes?
Absolutely, and we encourage you to.


I'm a video blogger. I shoot video, create mini-movies, and place them on my weblog. Can I use ourmedia instead and point to your servers from my blog?
Yes, as long as you're willing to share your work with the world.


Can I upload video from my phonecam?
Yes. We don't care where the material comes from.


Can I upload concert videos?
Although most bands prohibit the video taping or duplication of their shows, Ourmedia will accept footage of music bands listed on the Internet Archive's Trade-Friendly Band Information page. Bands may add their permission there.
There are only good things to be said about this project.
Having, only a few days ago, successfully tested the wonderful cross-platform mini-tool from the Creative Commons that ALREADY allows you to publish multimedia content to the Internet Archive, CC Publisher, I can fully sense how powerful and how real this is just going to be.
I invite you to go download CC Publisher for PC or Mac and see for yourself what Ourmedia and the Internet Archive will do.
Talk about disruptive?
Get some thermonuclear seat belts brother.

Reference: via Stephen Downes [ Read more ]
A great idea. Keep going. You have our support (and participation). FN
---