Tuesday, November 9, 2004
Free Music Sharing And Audio Distribution Via The Commons: CC Publisher
The Creative Commons has just release a new revolutionary, free killer app that allows individuals to upload, CC tag and share their audio recordings to the Internet at large via the Internet Archive, while keeping some of their rights fully intact.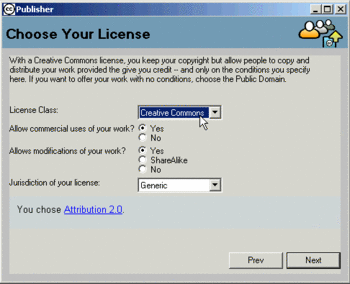 CC Publisher is indeed a revolutionary tool for independent musical, radio broadcaster and podcasters of all kinds. While making it easy for authors to fill in metadata, and to freely upload their files to the Internet Archive, CC Publisher allows easy one-click embedding of a CC license which openly states possible further "re-uses" of the material.
CC Publisher is available for both the Mac and the PC Windows platform. A Linux version should be available also shortly.
Thanks CC!
Thanks Internet Archive!
This is wonderful!
CC Publisher is also a really simple tool to use. Through a step-by-step wizard CC Publisher guides you to label, fill in meta-data, assign copyright ownership and select an appropriate CC license in a stupid-proof process. No difficult selections, no ambiguos labels, no wasted time. Everything works as expected.
Uploading your music or audio files to the Internet Archive is COMPLETELY FREE and there is official limit that I can see to the amount of files that one can upload.
CC Publisher supports the upload of all of the following file formats:


MP3


Ogg Vorbis


MP4


WAV


DivX


Windows Media


Quicktime


MPEG 1


MPEG 3


MPEG 4


Cinepak

and also

Animated GIFs


JPG


TIFF


TXT
and quite a few more.
(Unfortunately, and to reasons unclear to me, the .avi file format is NOT supported.)
Last night I took up CC Publisher for a real test and found it be fully performing as advertised. Uploading, filling in meta-data and selecting an appropriate license was a breeze. I selected for uploading an audio interview I did a few months ago with Ray Ozzie, just before the new release of the new Groove version 3 became officially available. The file was an MP3 of about 6MB, compressed to a bitrate of 32Kbps for lighter distribution on the Internet. Uploading went smoothly and without any hiccups. A final message informed me of the Internet Archive URL where I would have found my audio recorded interview once it would have been verified and approved by the Internet Archive staff.
And as promised, this morning I did find my recording fully accessible on the Internet Archive, available to everyone to access with a full CC license.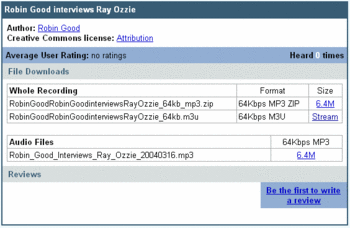 Yes I know it sounds too good to be true.
But the good news don't stop here.
Joi Ito, who sits on the Creative Commons board, reports:
"Also note that aside from being downloadable from Internet Archive, these tagged MP3s can flow on to P2P networks, and be identified as Creative Commons licensed (see our Lookup app we recently also updated to 0.96). Morpheus is currently the only file sharing application to identify Creative Commons licensed files."


Download CC Publisher right here:
Windows version (6.2 MB)
Mac version (19.6 MB)
http://creativecommons.org/technology/embedding


N.B.: If you are a music band you may also want to consider Creative Commons alternative option for uploading and sharing your own music tracks for free: SoundClick.
SoundClick is a music website that features both signed and unsigned bands, offering unlimited storage for your band's music. The easiest way to post music online with a Creative Commons license is to let SoundClick handle all the hosting, posting, and licensing for you. Start by signing up a new (free) account at SoundClick.
http://www.masternewmedia.org/chung_rock/
---
posted by Robin Good on Tuesday, November 9 2004, updated on Tuesday, May 5 2015