Blog Trends And Statistics: Technorati Reports
David Sifry reports extensively and effectively on the numbers making up the blogosphere in the last two years through a number of self-explanatory charts.
The latest section published by Technorati's chief officer is part 4 of a series on the growth of the Blogosphere, its impact on individuals, corporations, media, politics, and technology.
Part 1 covered the overall growth of the blogosphere, part 2 covered the volume of postings, and part 3 covered the growing influence that bloggers are having, and compared them to the online presences of traditional mainstream media.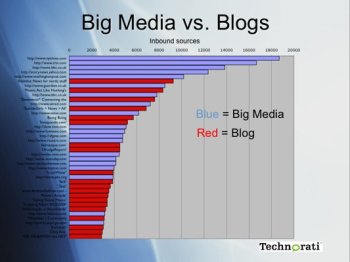 According to David Sifry data, Robin Good's MasterNewMedia belongs to a relevant group of pro-bloggers that frequently work on specific niche topics.
He writes: "Also important are the approximately 8000 blogs that have between 100-1000 inbound sources, which represent a set of people who are often writing about targeted or niche topics..."
He refers to the number of "sources" that a site can derive from other bloggers/news sites linking back to it. If you go to Technorati.com and punch in the search box "www.masternewmedia.org", you should probably see 550 inbound links coming from over 330 sources. That means that MasterNewMedia has roughly a total over 550 links pointing to it from 330 different blog sites(Technorati is not yet very reliable in its reported accounts, and nonetheless I have received more than 20 new inbound links in the last 2 weeks, they do not show up in the overall Technorati count yet).
In his latest post David Sifry also points to the strong emerging trend of "corporate" bloggers, that is representative of companies who are taking part or the whole of their public instititutional communications to blogs or similar personal publishing tools.
He concludes by saying:
"There is still a tremendous opportunity for forward-thinking companies and management to have a significant positive impact on their public perception by encouraging an enlightened blogging policy, encouraging openness both within and outside of the organization."
While the number of blogs keeps increasing at an astounding pace (over 12,000 new blogs per day) only half of these remain active with authors that take on a systematic publishing pattern.
Overall, there is a lot of useful information worth giving a good look at.
What it stands pretty clear above all other considerations is the fact that blogs (now over 4 millions of them) are a stable growing component of the Web and that they will exercise an increasingly more important role in the gathering, filtering and reporting of news, opinion and commentary in broad interest areas as well and more effectively in very specific niche industries.
posted by Robin Good on Monday, October 18 2004, updated on Tuesday, May 5 2015