Thursday, October 14, 2004
Friends-Only P2P File Sharing Comes Of Age: Grouper
Grouper is a P2P file sharing tool that allows private groups of people to easily distribute files among themselves with no limitation in file types and size, and with integrated IM (instant messaging) and security encryption.
Grouper fills a gap left by the first wave of P2P file sharing tools, which provide open and unprotected anonymous file sharing online. Grouper focuses on providing a fun and easy-to-use solution to those who have no need to share files publicly, but do want to share and text chat live with team or family members. Though this is not the first P2P tool to start offering private P2P networking, it's among the few ones that does not add spyware, adware or even pop-ups or integrated banner ads to the user experience.
Grouper is the brain child of Grouper Networks, Inc, founded by Josh Felser, Dave Samuel, Aviv Eyal and Mike Sitrin, most of whom are ex-AOL executives. Josh and Dave previously founded Spinning.com, a multi-channel Internet music service.
While still in beta, Grouper is only available for Windows PCs. Linux and MacOS versions may be coming next. Grouper is completely free. In the future Grouper Networks Inc plans to develop premium paid versions targeted at small and medium size businesses, offering workspace features like remote access and file transfer to smaller corporate workgroups of ca. 30 members. It is expected that the current package will remain free even after the beta period is over.
Grouper is purposely different from other popular file-sharing tools like Kazaa, because it offers multimedia streaming instead of uploading and downloading of music files, hence meaning to circumvent legal issues resulting from sharing copyrighted files.
Once installed, Grouper resides in the Windows system tray and can be quickly launched to start sharing personal files.
Grouper initially supports only the Windows OS (XP and 2000) and it also requires Microsoft .NET 1.1 Runtime and Windows Media Player (versions 8 or 9 are recommended, Media Player 10 not fully supported yet). The Grouper installer file automatically installs each of these if necessary.
Privacy is protected by full AES encryption of all IM messages exchanged and of all file documents shared with your group.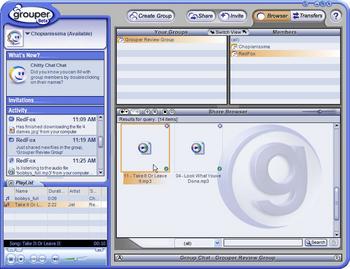 The current version of Grouper (1.3 as of this writing) features the following options to make the file sharing experience more convenient:

Groups can be publicly listed in the group directory on the Grouper server or be kept private


Users may send out invitations by email or directly by Grouper nickname (only if that person is already in the list of trusted members)


Files may be shared based on criteria specifying a file's type, extension, folder location or Grouper group name, file date, file size etc (Share Finder feature)


Users may publish an HTML hyperlink on their website or even in their email signature, allowing other people to request an invitation to their group


Users may remove members from their group, with or without an explanatory message


Inside groups users may find shared files by keyword and by file type


Users may communicate privately or groupwise


Users may indicate for which specific events they want to receive alerts:




When contacts change their online status


When contacts receive or accept an invite


When contacts browse, download or stream files





Pros:
The user interface design is attractive, compact and functional


Easy file drag-and-drop support from any local Windows Explorer folder onto the Share Your Files window; specific files may be dragged from the share browser onto the individual or group chat panes


Smart file search option through the excellent Share Finder


Built-in mini e-mail client (send only, no history)


Customer support is impressive, with a User Guide, Getting Started help files and tutorials, a FAQ, advanced technical documentation and a lively, vendor-moderated Web forum


Up-to-date release notes


The price is right (it's free)


Excellent privacy policy: no nagging ads or hidden spyware




To be improved:

Suppprt of certain types of proxies, like the one used by AdSubtract (Grouper won't connect if you have AdSubtract running)


Implementation of the Public Group Directory (currently not available)


Easier access to the Share Finder search functionality (current methods are not too obvious, for example through Help Menu > Getting Started > Start Sharing)


Support for other platforms, such as Mac and Linux


More questions are answered in the FAQ.
Grouper can be downloaded immediately here: http://www.grouper.com/download/ (1.9 Mb)
Not just interesting or promising: this is impressive. Worth checking out.


Reviews
P2P goes private by Cade Metz (PC Magazine, Jan. 12 2005)
Former AOLers bet on private P2P app by Ryan Naraine (eWeek, Nov. 19 2004)
New file-swapping software limits sharers to a select few by Nick Wingfield (Wallstreet Journal, Oct. 4 2004)

Robin Good recommends -
posted by Robin Good on Thursday, October 14 2004, updated on Tuesday, May 5 2015