Sunday, September 19, 2004
How To Convert Any Documents Into Flash Or PDF: FlashPaper!
FlashPaper is Macromedia solution to distributing and repurposing content with ease and cost-effectiveness. The $ 79 software tool, allows anyone to easily convert any printable document into either Web-ready Flash files or highly secure PDF documents.
Flash and PDF are by themselves two of the most popular content distribution formats reaching over 95% of all Internet users.
Content converted into the FlashPaper format is interactive and can embedded inside a normal Web page. Here are some good examples of FlashPaper at work.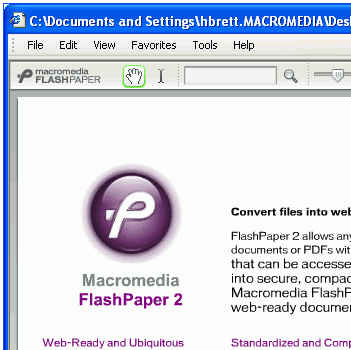 Content can be easily converted into Flash (or PDF) from any Office application with a just a single click. FlashPaper supports drag and drop functionality, and retains all of Microsoft Office document cross-links.
The Flash format is completely cross-browser, cross-platform, and cross-device compatible so content can be accessed and displayed by any standards-compatible browser connected to the Internet.
Integrated security guarantees privacy as tight as needed with 40- or 128-bit encryption, two levels of password protection, and a variety of permissions.
For Microsoft Windows computers only. 30-day fre trial available.
(Though there is no standalone Mac-version of FlashPaper a limited OS X version of FlashPaper 2 is available with Macromedia Contribute 3.)
posted by Robin Good on Sunday, September 19 2004, updated on Tuesday, May 5 2015