Tuesday, September 7, 2004
Note-Taking, Attach Digital Sticky Notes As Comments To Your Applications
Sponsored Links
Most advanced PC users run a note-taking utility on their computer. They are available in several shapes and sizes. Sticky notes utilities are a specific category, allowing you to quickly jot down a note and stick that to your desktop. A good example is the well-designed Windows program Quick Notes Plus, which offers several smart and unique ways to present and organize your notes.

For me sticky notes are usually short reminders of something interesting I read on a website, some kind of instruction I want to save or some idea I want to develop further. A couple of years ago I tried TurboNote+, even registered it, but somehow the concept just wouldn't stick with me. Although I had quite a few productivity tools already running on my PC, I decided this type of application wasn't the right tool for me.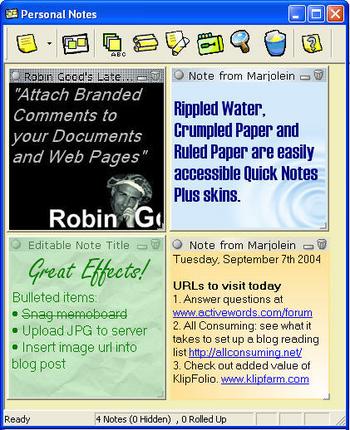 From ActiveWords to Quick Notes Plus
I enjoy spending my time exploring ActiveWords, a Windows productivity tool that allows you to link any word or phrase to websites, e-mail, programs, documents, substitution texts etc. Those linked words or phrases may be either manually typed by you or selected in any text on your screen. Through my ActiveWords blog AWesome and the ActiveWords Community Forums I meet with lots of interesting people.
Lately one ActiveWords user kept me busy asking this challenging question: "Has anyone ever heard of a note taking app that is smart enough to attach notes to a specific window, like a particular website or PC application? I'd like to be able to quickly paste some instructions to that note, retaining the original layout with bullets, italics etc. The note should stay on top while I carry out the instructions". Now, that question intrigued me because I had never seen or heard of a sticky notes app that could do this.
Well, as I soon discovered after doing some research, Conceptworld from Chennai, India, sells a utility that allows you to attach a note to one or more particular windows. Their tool is aptly called Quick Notes Plus and I found the download (1.8 Mb), installation and set-up very smooth. Tenacity's my middle name when trying out a new tool and I usually send out a lot of inquiries to the developers in the first few weeks of using any software program. Conceptworld addressed these inquiries quickly and adequately, both through their web based feedback form and on the support forums, even though at that time they didn't know I was preparing this review.
Comparison
Of course my earlier experience drove me to compare Quick Notes Plus to TurboNote+ and focus on the differences between the two programs. To me Quick Notes Plus quickly came out as the winner, firstly because I just happened to like its slick looks very much. But aside from the attractive user interface, Quick Notes Plus offers some exceptional features that make it stand out among its competitors.
Context Sensitive Notes
Quick Notes Plus notes can easily be attached to a specific window. This means you can set the properties of that note so that it appears only when that window has focus. Clearly the idea behind this courteous option is to help you organize and categorize your sticky notes according to the application to which the note refers. Stick notes to documents, e-mail messages, web pages or any application window.
Personalized Skins
Of all Quick Notes Plus features I was most impressed by its attractive and customizable skins. As with other sticky notes applications, Quick Notes Plus allows you to send a note across the internet or within your LAN. The notes arrive at your colleague's desktop instantly, similar to how an instant messaging system works. The difference lies with how the message looks. Imagine a quick note arriving on your desktop from one of your colleagues: the note will draw your immediate attention because it carries your colleague's signature or picture. New skins are quickly created if you copy and modify one of the existing skins. Conceptworld provides detailed instructions on request.
Special 'RobinQNP' Offer
In fact, I liked this skin option so much that I convinced Conceptworld to offer a free, personalized skin to anyone who uses coupon code "RobinQNP" when ordering. Details about this special offer and examples can be found at the Personalized Skins page.
Just as an example, a skinned note could look like this one. Conceptworld created it for me within 15 minutes or so: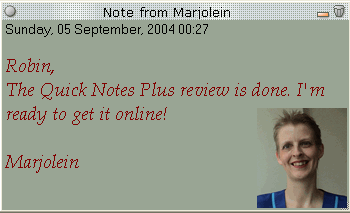 Quick Notes Plus Corporate Edition
Alternatively you may send Conceptworld your company logo and commission them to include that logo on every quick note, independent of the skin chosen. Quick Notes Plus will become a perfect companion to your existing corporate presentation style. This arrangement comprises free distribution of Quick Notes Plus among your clients. More information and examples are at Quick Notes Plus Corporate Edition.
Memoboards
Quick Notes can be assigned to named memoboards, another smart Conceptworld invention to help you organize your notes. A memoboard is a window containing any number of quick notes. Memoboards prevent that your desktop gets cluttered with notes. I use memoboards to categorize my notes according to their nature: to do items, reminders, ideas. If you like you can change the background color of the memoboard and choose a different note sort order.
Keyboard-friendly Operation
I prefer using the keyboard over the mouse. I am most comfortable working on my laptop, which doesn't have a very user friendly mouse pad. It was such a relief for me to find that Quick Notes Plus has adjustable global hotkeys for often used functions like "Create new quick note" and "Open main menu". I even use ActiveWords to control Quick Notes Plus, for example to send snapshots of sample quick notes to people who might be interested.
Summarizing I'd say that, at an affordable $24.95, Quick Notes Plus offers an attractive, intuitive and convenient way to create and organize your notes. I recommend you try it.