Custom-Animated Talking-Heads Can Play Cool Host On Your Site
http://www.oddcast.com/Oddcast is a cool and still innovative approach to create, customize and display animated talking-heads on your Web site. These can be put to a great number of good uses, raning from welcoming visitors and explaining what your site is all about to giving specific step-by-step instructions on how to set-up your latest downloadable tool.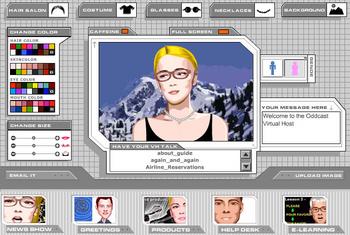 What is particularly interesting is the evolution of the Oddcast "make-up" room, as I would call it, where you go to personalize, dress and embellish your selected character.
Reviewed as early as July 2002 on these very pages, Oddcast remains, thanks to a very positive customer response, a uniquely alternative approach to liven-up any web-based content or site, without getting into the intricacies of video or podcasting.
The Oddcast life-like conversational characters can recite just about any text you submit to them while sporting a pretty-effective lyp-synch effect. The animated charachters now support over 64 different languages and can read any of your typed-up text announcements automatically.
Oddcast offers a very large number of different versions of its product, from server-based licenses costing over $ 15,000 to hosted solutions like VHost SitePal for professionals and SOHO businesses starting at $9.95/month.
Here some of the key features offered in the SitePal version for small and medium-sized businesses:

Edit and personalize any of the available models to create virtually any character likeness by adjusting features like age, gender, hair style, skin tone, hair and eye color, makeup, clothing, and more.


Make your characters speak by recording audio messages in your own voice or by uploading any recorded audio. Lip-Synchronization is automatic.


Upload your own backgrounds to give your characters added realism, or use any image from Oddcast extensive Image Library.
Works with any web browser on Windows or Mac.
Supports broadband and dial-up connections. Optimized audio streaming is built in.
Does not require any installation on the server or the client, or any server streaming capabilities.
No programming is required to use basic functionalities though advanced capabilities are available for programmers.


Text-to-Speech: Converts your written text to spoken audio. Type what you want your character to say, or pull information dynamically from a database.


Record-by-Phone: Update what your characters say by recording over the phone.


API Support: Make your characters even more interactive with our extensive API (Application Programming Interface).


Access Professional Voice Talent: Our Voice Talent Store features a variety of professional voices, available to record audio for your specific needs.
Go, check it out.
posted by Robin Good on Thursday, June 23 2005, updated on Tuesday, May 5 2015