Wednesday, September 15, 2004
RSS Wave: Good Ideas For Business And Marketing Applications
Sponsored Links
Rok Hrastnik has recently engaged me in a short tour de force around some major questions on the future of email, RSS, and RSS possible uses for business and marketing goals.
He is the man behind MarketingStudies, an online resource dedicated to explore many of the new strategies offered today by new media technologies. He authors good articles for business entrepreneurs and engages his preferred online journalists to fascinating online debates, like the one he elegantly directed last fall on the death of email as a marketing medium.
I have decided to call this topic-theme he drove me into, RSS Wave, and to report through it my vision and practical research discoveries of what appear to be significant applications of RSS technology for business and marketing applications.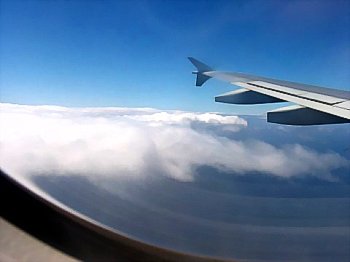 Rok's plan is instead to publish a promising ebook on the RSS Wave topic by month's end, and to include in it the integral part of the interview which I have just released to him.
In exchange for diving into his questions with all of my body and soul, I gently asked Rok to allow me the right to keep ten percent of the content I wrote for his interview.
He promptly agreed, and here they are, as an informative appetizer, the three questions from the interview that I selected to share with you: (from Rok Hrastnik upcoming ebook)
1) In your experience, what are the best marketing and business uses for RSS? Could you perhaps give us some practical examples?
2) But what are the greatest benefits of using RSS as a content delivery vehicle?
3) The number one problem RSS publishers are facing is the lack of knowledge about RSS. What in your mind are the best ways to present RSS to your existing subscribers and get them to start using it, and of course "subscribe" to their feed?
Rok Hrastnik: In your experience, what are the best marketing and business uses for RSS? Could you perhaps give us some practical examples?
Let me say that I foresee a very great number of possible uses for RSS in business and marketing which will surface in the coming 12-18 months.
As of now, I see what I call newsmastering as being probably the most effective use of RSS for creating a viable information-based business online.
Let me explain this to you in simple terms: a newsmaster is someone capable of designing search formulas and filters that tap into the vast amounts of online information including the Web and the full RSS universe.

By continuously refining such search rules and filters the newsmaster is capable of creating unique information feeds that cover very, very narrow topics.

It is like creating a Web Alert on Google that sends you an email when a web page appears that matches that content.

RSS search filters can do much of the same and the result obtained is a newsfeed containing very focused items. If the work is done well, there may be very few items appearing in the feed, and even many days were none appear.

But by combining multiple of such very specialized newsfeeds into one, the newsmaster is capable of creating dynamic news compilations that have no rivals in the world of competitive intelligence, market analysis, data monitoring or in the emerging enterprise information integration industry.

These native RSS newsfeeds, can be utilized to create visibility, exposure and to rapidly extend reach through the major search engines. To achieve this it is necessary to operate in parallel on two fronts. On one end by promoting and submitting your RSS feeds to the growing number of qualified RSS search engine and directories, and on the other by generating full-content Web-based information sites, which are fed by the same feeds but which do provide access to the full content of each news item.

RSS newsfeeds can easily be converted into Web pages, so it is not difficult to create parallel niche Web sites that complement the rich exposure generated by RSS feeds.

In the business model I am envisaging and which I have myself experimented, the RSS channel is the messenger keeping my readers and supporters informed, while the Web site is where they go to get a full immersion in what they want to learn more about.

In this view, the RSS channel carries only a limited amount of information relative to the whole article or essay being published, and allows the RSS users to have enough content to evaluate if the news item is of their interest or not. It allows easy scanability of my updates.

Is there something you like or are terribly interested in? Well, just clicking on the RSS article title link allows anyone to dig deeper into any news story while taking them home to one of my Web sites.

Where is the business?

My Web site pages carry themselves contextual, non-intrusive promotional messages, recommendations for books (which I can personally direct or leave to automatic selection - wish I could do the same for the ads) and other complementary, relevant and backed-by-the-editor (me) sponsorships.

This produces, if well executed, tangible return in terms of advertising profits (Google AdSense and others). It also allows one person to run an independent publishing business that does not have to respond to traditional external pressures and impositions (advertisers, sponsors, funding partners, etc.), can maintain a strong independent view and integrity, and can actually make increasing profits proportional to how much the above criteria are met.

If properly linked by existing credible resources, a newsmaster channel on a dedicated topic can generate profits in less than 3 months time. And the more and the better this is implemented, the greater the financial returns can be.
Rok Hrastnik: But what are the greatest benefits of using RSS as a content delivery vehicle?



Costs


efficiency


reach


ease of use


exposure


visibility


re-use


syndication


access

RSS is really a godsend in that it provides a content distribution and delivery mechanism that is completely controlled by the end user.

This is an important aspect of the media revolution we are witnessing today.

Across all new media fronts, consumers are taking control. In news and content media, consumers are becoming producers of content and RSS greatly facilitates this process. It makes it easy to distribute content to online audiences in a competitive way to traditional newsletters.

Implementation costs are next to zero.

It significantly extends reach and visibility online.

It favors re-use, syndication and the new media politics of remixing and newsmastering.

It leaves end users free to decide what information they want to receive, in control of when to read, or stop receiving what they have selected.

It allows others to repurpose and rebroadcast your content, message or news while doing this in a sustainable way. Viral marketing at its best!

Please note that this apparent automated and simple-to-use process is instead rather difficult to be executed in an effective way, unless the newsmaster is

a) well skilled in research methods and techniques,

b) has good familiarity with IT,

c) can mix and match the use of different technologies, and

d) willing to continuously refine and extend hir information channels.

Ethics play also an important role in this job, as the newsmaster really needs to work out filters, resources and clues that make her compilation of news truly valuable and unique.

Thus, this apparent unskillful profession not only requires passionate and culturally thick human beings, but it does serve a major important role in the evolution of collective intelligence through the fantastic mechanism of this system called the Internet.

Through newsmastering activities, individuals become effective live librarians and organizers of the online content being created every second.

We NEED newsmasters to create meaningful content channels out of the enormous amount of information that is growing in front of us by the minute.
Newsmasters are information DJs, content curators, digital information librarians, research masters and enterprise information integrators in a live and rapidly growing information universe.

Without them we could possibly drown inside this information tsunami.
With them a thousand opportunities emerge that may enrich our know-how, our just-in-time need for learning, our insatiable desire for knowing more.

Newsmasters help organize the network while providing a sustainable and socially beneficial activity to everyone.
Rok Hrastnik: The number one problem RSS publishers are facing is the lack of knowledge about RSS. What in your mind are the best ways to present RSS to your existing subscribers and get them to start using it, and of course "subscribe" to their feed?
I think that the best way to expose RSS to new users is by way of providing them with something that they have not seen before, that is highly useful for them, and that they could not do without.

So what you do is to create RSS newsfeeds on highly specialized topics and you promote and make these feeds accessible from as many news aggregators, distributors and syndicators as possible.

The more your RSS newsfeed is a specialized information channel on a specific topic the more readers can appreciate its uniqueness and value. The more this is just another channel for distributing your rants the more confusion and the less appreciation you will get.

Outside of these strategic issues, here are a few simple pro-active steps that anyone can take to contribute to the popularization of RSS and in helping more people understand what RSS is al about:

1) Use RSS feeds in your email signature - Feedburner can help you out.

2) Create RSS newsfeeds for each category of information you cover. The more, the better.

3) Provide easy access to all your RSS feeds next to the content you traditionally publish.

4) Offer direct one-click subscription to personal RSS news aggregators with tools like Quicksub.

5) Publish a rich tutorial about RSS and display a link to it next to all the RSS feed links you promote.

6) Submit your RSS newsfeed to the best search engine and directories specializing in blogs and RSS

7) Promote through articles or editorials the use of a good RSS newsreader or aggregators. Focus yourself on a few that you believe to be the best ones for your readers. I like Kinja and Bloglines which are both Web-based, as well as Feeddemon (PC) , Newzcrawler (PC), NetNewswire (Mac) on my desktop. There are certainly many other good ones out there.

8) Better yet, distribute a branded one. This is to me the yet untapped viral marketing opportunity. One of the many possible RSS killer apps. Rebrandable RSS readers/aggregators which independent publishers like me can pay for with a distribution license that allows them to:

1) Customize the basic default feeds integrated in the RSS newsreader

2) Brand and personalize the look and feel while using a set of variable components

3) Distribute their own Premium RSS channels (subscription based),

4) Include/integrate key sponsors in the interface contextual ad promotions

5) Include/integrate other complementary and non-intrusive contextual promotion like Amazon books or similar ones.

In this fashion, end users who get these free readers get a lot more interesting stuff as the RSS news reader is kind of a rudimentary digital lifestyle aggregator of their favourite newsmaster, reporter, blogger.

For example: I want to get the Scoble newsreader. It has in it the famous 1400 newsfeeds he reads himself all neatly organized according to "his" categories, and he also has integrated promotion/access for a few new slick RSS aggregation services from Microsoft which are not accessible anywhere else.

He also has a Premium channel in it, that provides unique breaking news about the developments of new Microsoft technologies. It costs 5.95/month.

The Scoble newsreader has also unique sponsorships from some of Microsoft best third party tool developers, and it carries all newschannels in two formats: Ad supported (with contextual ads a-la Google AdSense), or ad-free (for a small fee - say another $1-2/month for each feed?).

The Scoble newsreader is cross-platform (Win, Mac and Linux) and it reads all newsfeeds formats (RDF, RSS, Atom, etc.).

I could go on for quite a while.

But let me keep some of the better ideas for whoever is going to develop this first.
Related articles about the RSS NewsMaster:
and my little Mini-Guide:

Wow! thanks a lot this article rocks.

Deepesh Agarwal,
http://www.freeware-alternative.uni.cc/
---