How To Calculate The Exact Download Time For Any Image Or Web Page
Time Download Calculator
http://www.snapfiles.com/download/dldltime.html
[must have] =

Desktop tool (Win)
FREE
The Time Download Calculator is a freeware tool, weigthing less than 100 KB, that allows you to measure the exact download time of any image or Web page according to your pre-defined Internet connection speed.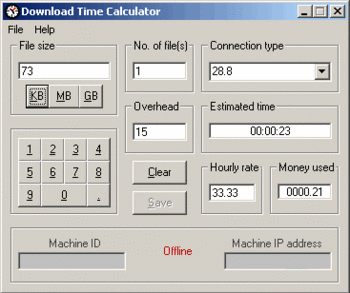 This is something that I have been doing manually for the last ten years. Finding out how much a new image is going to impact the load speed of a particular web page, or estimating how slow it would be for my customers in third world countries to access some of my pages has always been part of the core curiositires of the responsible online publisher.
If you don't live in a vacuum, awareness of how effective and accessible your content pages are to other people not sitting inside your same organization is absolutely essential.
The Time Download Calculator is extremely easy to use and requires no technical know-how outside of your ability to read numbers. A file size in kilobytes, megabytes or gigabytes can be easily input in the first interaction box.
After that the user can easily select the download speed (from 9600 Kbps to T1 or custom) and obtain an immediate readout of expected download time.
To update the estimated time the user needs to click on one of the three buttons right below the file size input box.
Download Time Claculator also offers the option of adjusting for network overhead by providing an extra field where one can input the percentage of extra slowdown to append to the final estimate.
The tool is completely free and can be downloaded immediately from:
http://www.snapfiles.com/download/dldltime.html
Recommended.
Great Tool that I think is very important for SEO marketers like us
---
The Download Time Calculator with not download. "Page cannot be displayed." It looks good and I'd like to try it.

Tony
---
posted by Robin Good on Friday, March 19 2004, updated on Tuesday, May 5 2015