Tuesday, January 27, 2004
MusicPlasma Helps You Visualize Your Musical Outlook
Musicplasma
http://www.musicplasma.com

= interesting, promising
Online Visual Search Engine
FREE
Musicplasma helps you find all the artists fitting your musical tastes.
Musicplasma is a visual search engine that allows to find music tracks and authors according to the musical genre they belong to. Through the basic application of some essential information design techniques Musciplasma shows once again how powerful information visualization can be in the realm of search applications.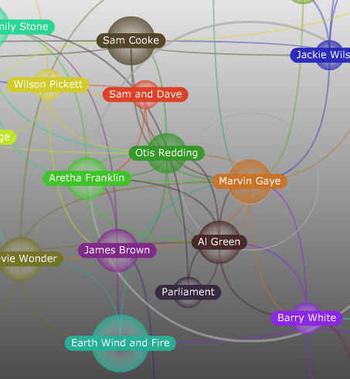 Musicplasma paints elegant information maps enlivened by the name of your favourite bands and musicians. Just give it one name and Musicplasma will instantly draw on your monitor its related music universe.
Musicplasma is the first visual search engine to make its debut after the sad demise of the wonderfully unique Sony Music License engine, powered by the Thinkmap visual search engine.
Though Musicplasma does not have the sophistication and abilities of the original Sony site, it does offer quite a few interesting abilities.
The interface can be customized by the user, and results are audio-previewed so that you can get a good idea of what the music of that author or band sounds like. Musicplasma supports English and French queries and it provides a short thumbnail list of all the albums available for the author/band you have been searching for.
Maps can be zoomed at different levels of detail and a history of all, previous searches remains available in an easy to access list.
An Amazon page where the records can be bought is also just a link away from any record you find, making the service possibly sustainable and valuable to many in the long run.
The engine is still very young, prone to errors and in need of refinements. Don't be too harsh with your judgements as there is no Warner Bros. behind this nifty tool.
For some bands or authors you may have to retype the name in the exact way that the staff at Musicplasma used to input it, and other small idiosyncracies you would not expect from a major search engine. But then again, this is the new kid on the block... so give it time to grow.
www.musicplasma.com . Surely it's a beautifull site. But recently not available on www.What's happening with the site?
---
posted by Robin Good on Tuesday, January 27 2004, updated on Tuesday, May 5 2015